1993 Scholars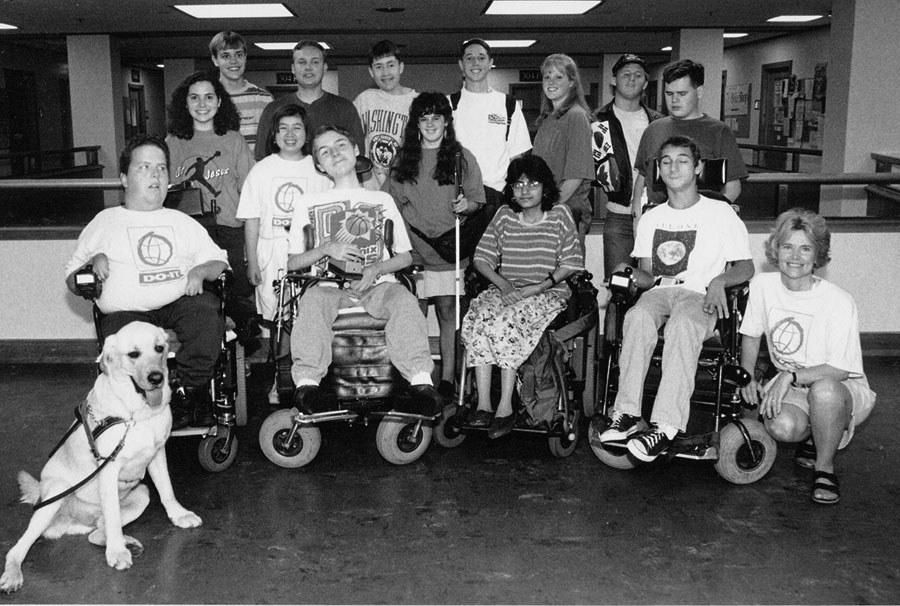 Stroke resulting in right side weakness. Earned a bachelor's degree in social work with a minor in applied psychology from Eastern Washington University. Earned a master of social work degree through an online program at the University of Southern California. Crisis mental health therapist. Married and a mother. Enjoys bike rides with the family.
Attended Big Bend Community College and Eastern Washington University. Was developing plans for an Internet-based business when he died peacefully in his sleep in 2001.
Hearing impairment. Earned a bachelor's degree in biology from Washington State University, and a master's degree in physical therapy from Eastern Washington University. Works at Legacy Salmon Creek Medical Center in Vancouver, WA, as an inpatient physical therapist. Received her second bilateral cochlear implant. Mother of two.
Multiple sclerosis, visual impairment. Works for Seattle Lighthouse for the Blind.
 
Learning disability. Earned a bachelor's degree in business from Seattle University. Founder of Fleming's, a holiday lighting company. Married with 2 kids and owns a home in West Seattle.
Hearing Impairment. Earned an associate's degree in electronics technology from Crowder College Electronics Institute in Kansas City, MO. Studying computer forensics at Missouri Southern State University.
Blind. Earned a bachelor's degree from The Evergreen State College and a master's degree in technology management from City University of Seattle. Works as a senior systems analyst at Transaction Network Services. Married with children.
Mobility impairment. Graduated with an associate's degree in computer information and technology. Currently working as a court interpreter for the Punjabi language. 
Arthrogryposis multiplex congenital. Engaged in computer projects, is a writer for the community newspaper, and is studying to be a Python/Django developer.
Visual impairment. Earned an associate's degree in computer applications from Mt. Hood Community College and a bachelor's degree in marketing from Portland State University School of Business. Completed internship at the Portland Jewish Academy and earned career pathways certificate in Windows Server Administration from Portland Community College. Completed a resource search internship at the Oregon Department of Human Services and now works as a contracts coordinator. 
Blind. Earned a bachelor's degree in cell and molecular biology at the University of Washington. Was an artist, consultant for Mary Kay Cosmetics, and black belt in Aikido when she died from cancer in June 2004. She received a DO-IT Trailblazer award the same year. 
Cerebral palsy. Starting his own business selling assistive equipment for wheelchairs.
Dyslexia. Earned a bachelor of science in mathematics and computer science and a bachelor of arts in international political economy from University of Puget Sound. Director of engineering for a midwest startup. Married with three children.
Spina bifida, Homer's syndrome, thalamic pain syndrome. Earned an associate's degree from Wenatchee Valley College and has worked as a professional recording artist.