'07 Ambassadors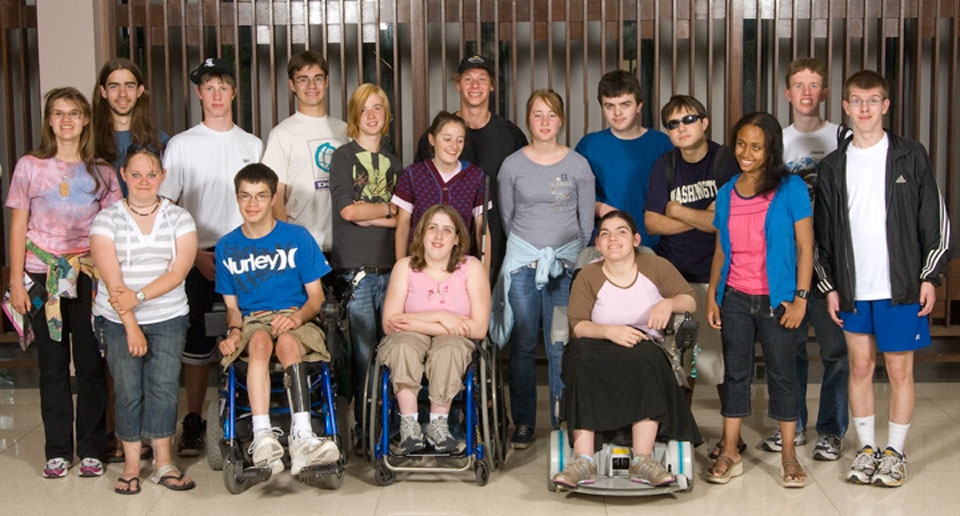 DO-IT Ambassadors are pursuing postsecondary studies and careers. They share their experiences with DO-IT Scholars and Pals, encouraging them to pursue their goals in college and employment.
Friedreich's ataxia
Graduated with a degree in business from the University of Portland.
Attention deficit hyperactivity disorder
Earned an associate of science degree in networking from Walla Walla Community College. Pursuing jobs in computer repair and troubleshooting.
Cerebral palsy (essential tremor)
Attends community college majoring in sociology.
Cerebral palsy
Pursuing an urban studies degree at University of Washington, Tacoma. Also attended St. Martin's University.
Severe high frequency hearing loss
Graduated from Chapman University and is a certified athletic trainer.
Ehlers-Danlos syndrome
Pursuing a degree in library science at Spokane Falls Community College.
Autism, Gorlin syndrome, obsessive compulsive disorder
Attends Grays Harbor College and would like to become a video game designer.
Blind
Attends The Evergreen State College studying psychotherapy. Volunteers at Thurston County Crisis Clinic.
Cerebral palsy, learning disability (reading)
Attends Olympic College.
Asperger's syndrome
Graduated from The Evergreen State College. Taught English in Shijazhuang, China.
Spina bifida
Earned a bachelor's degree in English/language arts teaching from Central Washington University (CWU). Initiated into the CWU chapter of Kappa Delta Pi, an international education honor society. Worked as a teaching assistant last summer at the Robinson Center summer school program on the UW Seattle campus. Plans to study abroad in Dundee, Scotland this fall.
Dyspraxia
Earned a certificate in park aid from Skagit Valley College. Works for the Washington Conservation Corps at Skagit Department of Natural Resources. Wants to become a Park Ranger.
Tourette's syndrome
Attends Bellevue College. Hopes to transfer to Western Washington University.
Traumatic brain injury
Attends Yakima Valley Community College.
Attention deficit disorder
Transferred from Tacoma Community College to the University of Washington.
Visual impairment, legally blind
Earned a degree in psychology and economics from The Evergreen State College. Interested in pursuing a master of social work degree.
Asperger's syndrome, nonverbal learning disability, attention deficit disorder
Pursuing a degree in library science at the University of Washington, Bothell.