'06 Ambassadors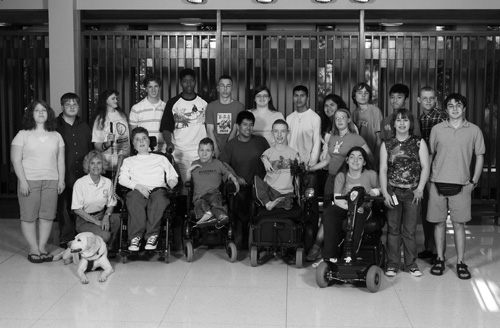 DO-IT Ambassadors are pursuing postsecondary studies and careers. They share their experiences with DO-IT Scholars and Pals, encouraging them to pursue their goals in college and employment.
Hard of hearing, attention deficit hyperactivity disorder, dysgraphia
Majoring in mechanical engineering at the Rochester Institute of Technology. Enjoys video games, computers, and hanging out with friends.
Hard of hearing, mild cerebral palsy, mitochondrial disease
Fourth year student at the Rochester Institute of Technology, majoring in clinical psychology. Senior thesis discusses personality and its influence on academic performance, learning styles, and satisfaction with and preference for different instructional environments.
Mobility impairment
Has a career as a DJ.
Turner syndrome, nonverbal learning disorder
Studied library sciences at Highline Community College. Currently studying at Central Washington University. Enjoys music, playing on the computer, and going to school.
Right-sided weakness, learning disability
Plans to be a physical therapist or work with children.
Learning disability
Double major in Spanish and law, diversity, and justice at Western Washington University. Started the campus club Student Coalition for Immigration Rights. Plans to go to law school to be an immigration lawyer.
Hand deformity
Studies political science at the University of Washington. Serves as a volunteer on the Washington State Governors Committee on Disability Issues and Employment. Also serves as an advocate for the Andrew Hughes Campaign for Congress. Enjoys soccer, basketball, watching TV, video games, and hanging out with friends.
Proximal femoral focal deficiency, bone deformities
Currently interning at the Cascade AIDS Project in Portland, Oregon as a social media intern. Also works at Hollister and at a mall information desk. Will be attending Portland Community College this fall. Is very involved in youth activism and in his church as the young adults leader. Participates in the church choir each Sunday.
Cerebral palsy
Attends Green River Community College pursuing an associate's degree in social work. Volunteers for the SPARK program at the Children's Home Society and for the Muscular Dystrophy Association.
Visual impairment
Studied computer and network technologies at Renton Technical College with a plan to earn an associate's degree and transfer to a four-year university. Passionate about music.
Duchenne muscular dystrophy
Attends Cascadia Community College. Likes reading and playing video games. Would someday like to start a program similar to DO-IT to work with students with disabilities.
Learning disability
Attends Skagit Valley College and hopes to become a meteorologist. Enjoys drawing maps, reading, comics, and traveling.
Dyslexia
Attending the University of Idaho. Loves sports, especially skiing.
Asperger's syndrome
Attending the University of Idaho. Enjoys geography and math.
Attention deficit disorder
Attending Haverford College pursuing a sociology major with a double minor in Chinese and anthropology. Interned at the Department of Defense as a research assistant, is the president of Sons of Africa, participates in the Haverford College Humtones, and throws shotput and discus for the track team.
Hearing impairment, tetraphocomelia
Attends Cascadia Community College. Is involved in public speaking and has been featured in many news and television shows. Enjoys music, English, and history. In 2012, co-wrote the book, My Message is C.L.E.A.R.
Cerebral palsy
Interning at the University of Washington Experimental Education Unit. Likes to read and play video games.
Cerebral palsy
Graduated from Shoreline Community College. Active Eagle Scout with several palms. Used to participate in the Mount Baker Council Sea Scout program, and volunteers at the Seattle Marathon every year. Enjoys horseback riding and travel. Training to be on the US Para Equestrian Team.
Seizure disorder
Attends Washington State University and studies accounting. Likes anime and playing video games.
Blind, bilateral hearing loss
Earned a bachelor's degree in computer science with a focus in human computer interaction from Stanford University. Works at Google. Has a guide dog named Lexia.