'05 Ambassadors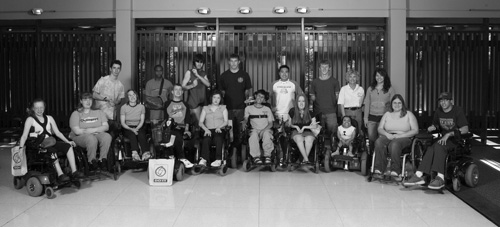 DO-IT Ambassadors are pursuing postsecondary studies and careers. They share their experiences with DO-IT Scholars and Pals, encouraging them to pursue their goals in college and employment.
Hearing impairment, cerebral palsy
Attends Seattle Central Community College. Plans to become a counselor or a chef.
Spina bifida
Studies criminal justice at Columbia Basin College, pursuing a career in the federal government. Volunteer guardian ad litem for the Benton-Franklin Juvenile Justice Center.
Cerebral palsy Pursuing an associate's degree at Yakima Valley Community College. Would like to work as a public relations advocate for people with disabilities.
Attends Bellevue College. Plans to transfer to the University of Washington–Bothell to study psychology and disability studies. Works as a student assistant in the DO-IT office.
Graduated from Green River Community College. Works for Chase Bank as an assistant branch manager.
Cerebral palsy
Attended Shoreline Community College and majored in child development. Volunteers at the college's preschool program.
Dysgraphia
Earned an associate's degree in fire science from Portland Community College. Studying to be a paramedic.
Learning disabilities
Living and working on an island in the San Juans.
Enjoys playing bass guitar, working out, and having a good time with friends.
Pursuing bachelor's degrees in Spanish and criminal justice with a certificate in social justice. Studied abroad at the University of Granada in Spain and the American College of Norway. Is currently attending Peru's Universidad Nacional Mayor de San Marcos.
Learning disability
Attends Bellevue College and studies physical fitness.
Asperger's syndrome
Currently a student at Seattle University with a bachelor's degree in forensic psychology. Hopes to attend graduate school in criminal justice and pursue a career as a criminologist or researcher.
Cerebral palsy
Senior at the University of Washington studying political science and disability studies. Involved with the Disability Advocacy Student Alliance. Enjoys music, concerts, and works on the Island Records Street Team.
Attends Washington State University and enjoys painting, photography, and fashion.
Cerebral palsy
Volunteers at Kent Commons.
Morquio's syndrome
Attends Bellevue College and is living in an apartment with a roommate.
Cerebral palsy
Senior at Western Washington University where he founded an organization called Students for Disability Awareness. Works remotely for the U.S. Department of Agriculture on information technology accessibility and for PAVE, a nonprofit organization, on disability health care for youth. Interned with NASA at its headquarters in Washington, DC and with Liberty Mutual in Seattle.
Spina bifida
Attends Interface College in Spokane, WA. Holds certificates in Microsoft Office Word, Excel, PowerPoint, and Access as well as an A+ certification to repair computers. Working towards a certification for Microsoft Server 2008.