'03 Ambassadors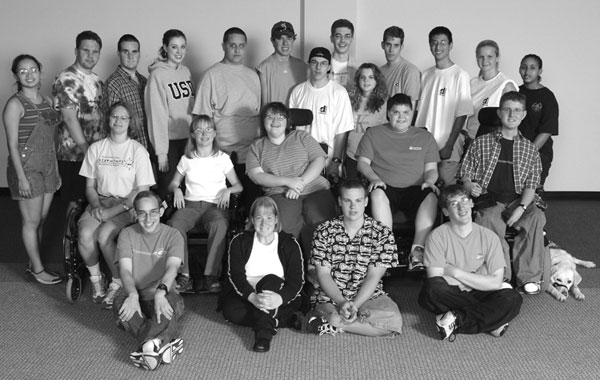 DO-IT Ambassadors are pursuing postsecondary studies and careers. They share their experiences with DO-IT Scholars and Pals, encouraging them to pursue their goals in college and employment.
Duchenne muscular dystrophy
Died in spring 2010, after earning a bachelor's degree in information technology from Central Washington University.
Traumatic brain injury
Graduated from Columbia High School.
Mobility impairment
Attends the University of Arizona in Tucson, studying business, economics, and accounting. Swam for the U.S. at the Paralympics in China.
Short-term memory loss
Graduated from Stanwood High School. Has worked at a food bank and an animal shelter.
Learning disability
Earned an undergraduate degree from Central Washington University (Summa Cum Laude and Presidential Scholar) and master's degree from Lesley University in curriculum development through the arts. Teaches special education at the elementary, middle, and high school levels.
"Much of my success would not have been possible without the support I have received [from DO-IT] over the years. It goes to show that someone, like myself, with a learning disability in math, reading, and writing, can achieve their dreams"

–Jamie, '03 Scholar
Low vision
Attended Spokane Community College.
Cerebral palsy
Attends Centralia Community College, majoring in early childhood education. Would like to study psychology.
Cerebral palsy
Attends Walla Walla Community College, studying computer technology.
Spina bifida
Passed away in May 2008, after a sixteen-month battle with cancer. Received an honorary degree from Landmark College.
Cerebral palsy and learning disabilities
Working in real estate land development.
Blind
Attends Clark College, studying broadcasting. Interested in novel writing and DJing.
Cerebral palsy
Earned degrees in English, Spanish, and political science from the University of Portland. Attends law school at Willamette University. Coordinated three DO-IT Summer Study Phase II workshops as AccessSTEM Intern for NOAA.
Learning disability
Earned a bachelor's degree in social science with a focus on environmental studies from the University of Washington. Professional photographer in Seattle.
Muscular dystrophy
Graduated summa cum laude from Seattle Pacific University. Attends the University of Washington, studying law. Participated in the American Association of People with Disabilities Congressional Internship in Washington, DC. Interned at the Heritage Foundation and is currently interning at Disability Rights Washington. Involved in fund-raising and disability awareness efforts, including testifying in Washington, DC. First person in a power chair in the Seattle Rock & Roll Half Marathon.
Bilateral radial club hand
Attended Washington State University and majored in hospitality business management.
Dyslexia
Software developer of custom applications at Digital Foundry, specializing in web and mobile applications. Earned a bachelor's degree in computer science from Goshen College. Taught basic computer skills to adults who are homeless in San Francisco. Interned at NASA, Microsoft, and IBM.
Health and vision impairment
Senior at the University of Washington, working towards a degree in medical anthropology and global health. Nominated as a Boren Scholar and joined a community group called Leadership Tomorrow.
Cerebral palsy
Earned an associate's degree in accounting from Big Bend Community College. Works as an office administrator for Blue Sky Management.
Hearing impairment
Attends Yakima Valley Community College. Plans to transfer to Central Washington University and earn a degree in special education with a minor in deaf education.
Attention deficit disorder
Earned associate's degree from Bellingham Technical College in machine technology and mechanical engineering, member of Phi Theta Kappa. Attends Washington State University, and working towards a bachelor's degree in mechanical engineering and an associate's degree in electrical engineering.