'01 Ambassadors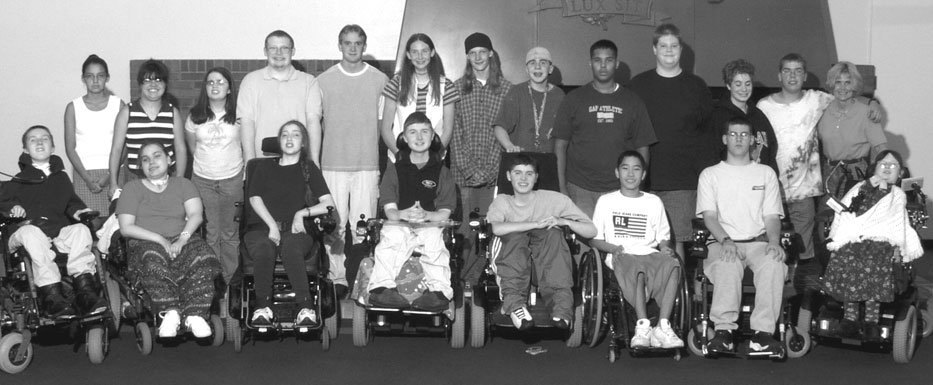 The following Ambassadors began participating in DO-IT as Scholars in 2001. They continue to pursue college and career goals and encourage younger DO-IT Scholars and Ambassadors.
Quadriplegia
He looked forward to earning a college degree and becoming a software engineer when he died in April 2003 from a respiratory infection.
Attention deficit disorder and learning disability
Graduated from Central Washington University with a bachelor's degree in sociology. Currently works as a website reviewer.
Duchenne muscular dystrophy
Died in his dorm room in February 2004 after achieving his childhood dream of attending the University of Washington.
Cerebral palsy
Graduated from Eastern Washington University with a master's degree in social work.
Attention deficit disorder
Attends college in Spokane, WA.
Visual and mobility impairment
Attends Bellingham Technical College, studying computer networking.
C7 quadriplegic, profoundly deaf, and respiratorily fragile
Graduated from South Puget Sound Community College. Transferred to Evergreen State College to earn an elementary school teaching degree. Currently studying Spanish.
Neurofibromatosis
Graduated from Central Washington University with a bachelor's degree in social services. Attending Highline Community College to pursue a library and technology certificate.
Dyslexia and short-term memory defect
Attends Central Washington University, majoring in safety and health management to pursue a career as disaster consultant. Works in the emergency management field.
Hemipelegia
Received master's degree in the psychology of counseling from the University of Puget Sound.
Deaf
Graduated from the University of Washington. Works in accounts payable at Holland America Lines.
Attention deficit hyperactivity disorder and bilateral clubfeet
Earned a bachelor's degree in archeology at the University of West Florida.
Cerebral palsy
Earned a bachelor's degree in special education from Central Washington University. Volunteering at a resource room at an elementary school. Has a dog named Edward "Special Ed" who is training to be her service dog.
Asperger's syndrome
Pursuing two associate's degrees at Shoreline Community College in computer animation and photography.
Fibrodysplasia ossificans progressiva
Graduated from Seattle Pacific University. Studied to be a Spanish–English interpreter and translator.
Deaf
Attends the University of Minnesota, Crookston, majoring in equine science and minoring in flight aviation. Works with people with disabilities at Connections of Moorhead.
Learning disability
Would like to become a history or science teacher.
Transverse myelitis
Graduated from the University of Arizona and works at an internet marketing firm. Competed in several events at the 2008 Bejing Paralympics.
Duchenne muscular dystrophy
Earned an associate's degree from Clark College. Studying digital technology and culture at Washington State University.