'00 Ambassadors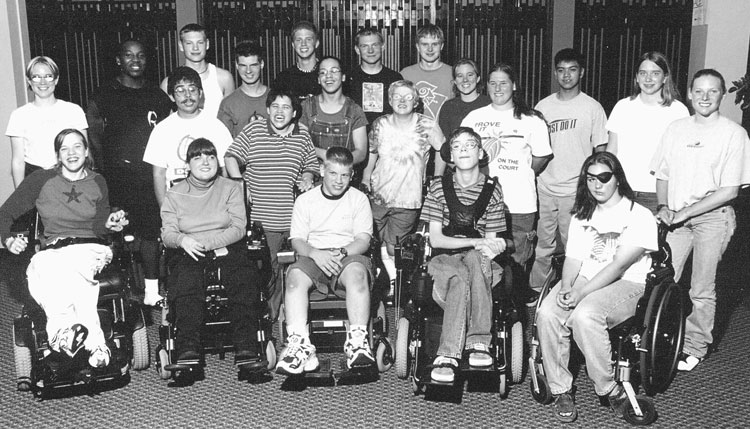 The following Ambassadors began participating in DO-IT as Scholars in 2001. They continue to pursue college and career goals and encourage younger DO-IT Scholars and Ambassadors.
Cerebral Palsy
Graduated from the University of Washington with a Bachelor's degree in political science. Completed three internships at the Department of Defense.
Cerebral Palsy
Attending Eastern Oregon University, majoring in education.
Blind
Attending Wenatchee Valley College, with plans to transfer to Washington State University and major in computer programming.
Mild Static Encephalopathy and Patella
Femoral Syndrome
Attends the University of Washington with plans to graduate with a degree in political science.
Learning disability
Majoring in political science and economics with honors distinction at the University of Oklahoma.
Graduated with a Bachelor's degree in architectural studies. Currently working as an architecture intern.
Cerebral Palsy
Working as People First Coordinator at the ARC of Snohomish County.
Will graduate this year from Washington State University with a degree in political science.
Cerebral Palsy
Graduated from the University of Washington in Seattle. Attends Gonzaga University in Spokane, WA, working on a Master's degree. Married and expecting a baby in October 2007.
Aphasia
Attending Central Washington University.
Visual impairment
Earned a Bachelor's degree in social work from Eastern Washington University. Working for CORD as a case manager.
Cerebral Palsy
Earned a certificate in culinary arts from North Seattle Community College. Working on several business projects.
Dyslexia and other learning differences
Graduated from Edmonds Cyberschool and attended Landmark College in Putney, VT. Attends Shoreline Community College. Directed photography on several short films and has earned two video production certificates.
Cerebral Palsy
Attends Heritage University and Yakima Valley Community College studying computer programming and web design. Part of an international organization called SIFE (Students In Free Enterprise).
Hearing impairment
Attends Eastern Washington University with a major in social work and a minor in alcohol and drug studies. Married and has one son.