NSF INCLUDES TAPDINTO-STEM Alliance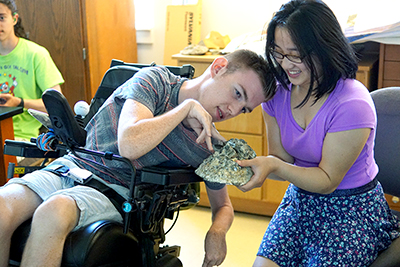 The NSF Eddie Bernice Johnson INCLUDES Alliance of Students with Disabilities for Inclusion, Networking, and Transition Opportunities in STEM, also known as the NSF INCLUDES TAPDINTO-STEM Alliance is a nationwide project employing a collective impact approach with dozens of partnering organizations to empower people with disabilities to succeed in STEM disciplines, earn degrees, and enter the STEM workforce. Auburn University is leading this NSF INCLUDES Alliance's primary partnerships with five institutions of higher education (IHE) that directs regional hubs of collaborating IHEs to address this national need. The hubs are championed by Auburn University, Northern Arizona University, The Ohio State University, the University of Hawaii-Manoa, the University of Missouri-Kansas City, and the University of Washington.
On the University of Washington team, DO-IT Program Manager Scott Bellman serves as the UW project director and leads activities of the West Coast Hub. The UW's Eric Chudler serves as a lead mentor and STEM educator. DO-IT's Eric Trekell serves as a Hub coordinator and a UW campus leader. 
The West Coast Hub includes the following institutions:
The University of Washington (lead institution)
University of Alaska Anchorage
San Diego State University
San Diego University
Point Loma Nazarene University
Mira Costa College 
It provides support to students with disabilities and training and engagement to postsecondary educators and administrators.
The NSF INCLUDES TAPDINTO-STEM Alliance focuses on four main targets:
Increasing the quantity of students with disabilities completing associate, undergraduate, and graduate degrees in STEM.
Facilitating the transition of students with disabilities from STEM degree completion into the STEM workforce.
Enhancing communication and collaboration among institutions of higher education, industry, government, national labs, and local communities to address the education needs of students with disabilities in STEM disciplines.
DO-IT's involvement also includes a research component, which compares student data from the NSF INCLUDES TAPDINTO-STEM Alliance with data from an ongoing DO-IT longitudinal study to examine which interventions are regarded as most valuable, investigate patterns linking student demographics or interests with the interventions used, and study suggestions for improving or expanding interventions.
Resources
Visit the TAPDINTO-STEM Collective Website
Learn more about the national project as well as the other hubs that lead schools and organizations across the United States in empowering people with disabilities to succeed in STEM.
Learn More About Our Other Related Projects
DO-IT engages in four projects that connect with the NSF Eddie Bernice Johnson INCLUDES Network: The AccessINCLUDES Conference Project, The NSF INCLUDES TAPDINTO-STEM Alliance, The Alliance for Identity-Inclusive Computing Education (AiiCE), and ERC-INCLUDES.