The AccessINCLUDES Conference Project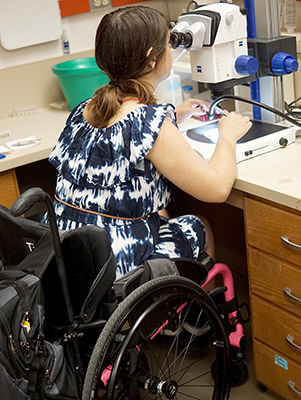 The AccessINCLUDES Conference Project, funded by the National Science Foundation (NSF), created resources and engaged with INCLUDES project leaders and staff, accessibility/UD experts, and individuals with disabilities to explore how to make research, activities, and resources in the INCLUDES Network welcoming to, accessible to, and usable by all potential project participants, including those with disabilities. It hosted a two-day conference in 2019 to congregate stakeholders and focus on resource building and information sharing, as well as building a community within the INCLUDES National Network around disability.
Learn more about the AccessINCLUDES conference or read the proceedings online.
The AccessINCLUDES Conference Project builds community between the NSF INCLUDES Network and other NSF disability-focused projects and their network organizations in order to make the INCLUDES Network better prepared to
address disability-related issues in their research (e.g., design interventions to be accessible; recruit, support, and report outcomes for participants with disabilities);
make meetings, trainings, courses, and other project activities welcoming and accessible to individuals with disabilities;
design project resources and products to be accessible to individuals with disabilities; and
develop durable, new collaborations between multiple stakeholders and organizations that lead to future innovative projects and resources that are inclusive of individuals with disabilities.
Resources