I am excited to report that DO-IT is once again partnering with the Department of Computer Science & Engineering at the University of Washington (UW) to extend the activities of the successful Alliance for Access to Computing Careers (AccessComputing).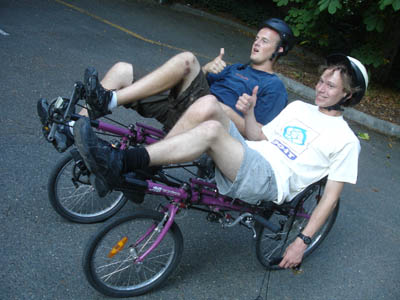 Phase I Scholar Collin and Phase II Scholar Sam bike in the Tour de UW.
The enhanced AccessComputing project is funded by the National Science Foundation's Directorate of Computer Information Science and Engineering (grant #CNS_0837508). It continues to build the nationwide network of universities and organizations that was developed in the first project. This multidisciplinary network offers activities to increase the number of students with disabilities who successfully earn associate, baccalaureate, and graduate computing degrees and enter the computing workforce. Network leaders identify potential computing students with disabilities and give them the support and tools needed to succeed.
AccessComputing engages individuals with disabilities as well as those who support, serve, guide, educate, and employ them. Specifically, AccessComputing now serves to:
increase the capacity of postsecondary institutions, pre-college educators, veteran associations, projects that broaden participation in computing, and businesses to fully include individuals with disabilities in computing fields
create lasting relationships with stakeholders that foster systemic changes toward inclusiveness in computing education and careers
implement mentoring and internships to increase the number of individuals with disabilities moving into computing careers
expand an online resource center to share research and promising practices worldwide
Ultimately, AccessComputing will open the door to computing opportunities for more people and, as a result, enhance the field with the talents and perspectives of people with disabilities. More information on this program is available at www.washington.edu/accesscomputing.