Conference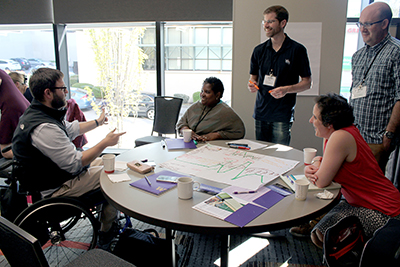 A conference was held in Seattle in 2019 developed with input from project stakeholders. Over a 2-day period, INCLUDES project and other leaders and staff engaged with each other, accessibility/UD experts, and individuals with disabilities to explore how to make research, activities, and resources in the INCLUDES Network welcoming to, accessible to, and usable by all potential project participants, including those with disabilities.
To maximize impact for specific projects, representatives were encouraged to focus on the specific research, activities, and resources they have developed or are developing as they explored how to
address disability-related issues in their research (e.g., design interventions to be accessible; recruit, support, and report outcomes for participants with disabilities);
make meetings, trainings, courses, and other project activities welcoming and accessible to individuals with disabilities;
design project resources and products to be accessible to individuals with disabilities; and
develop durable, new collaborations between multiple stakeholders and organizations that lead to future innovative projects and resources that are inclusive of individuals with disabilities.
The conference increased participant knowledge about the following:
legal obligations to ensure access to individuals with disabilities
applications of UD,  and accommodations to make curricula, learning activities,  web resources,,  events, and research welcoming, accessible, and usable
incorporation of disability-related issues in evaluation and training associated with INCLUDES projects.
current research that identifies outcomes for specific underrepresented groups
possible future research that may be needed in the field
In addition, the conference included activities that serve to build collaborations between attendees.
The AccessINCLUDES project is funded by the National Science Foundation (grant #HRD-1834924). Any questions, findings, and conclusions or recommendations expressed in this material are those of the author and do not necessarily reflect the views of the federal government.