Working Group Summaries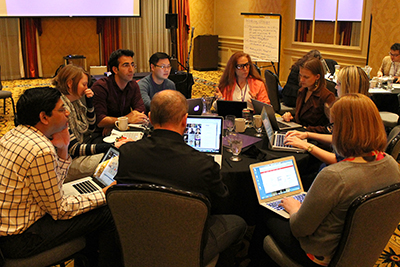 There were three different topics covered by working groups:
Recommendations to The Center for Innovative Research in Cyberlearning (CIRCL) (e.g., improving accessibility of web resources and incorporating more accessibility content)
Review Quality Matters, professional organizations, and conferences for accessibility
Make the National Science Foundation's "Smart and Connected Communities" initiative more inclusive of people with disabilities
Recommendations to CIRCL
Host more accessibility-related webinars.
For website access, run all CIRCL pages through wave.webaim.org to find quick fixes. Make sure the keyboard navigation works and all videos are captioned.
Create a site map for the website, and include it within a "New to Cyberlearning" link on the front page.
Make the website navigation easier to follow.
Create a primer on accessibility that speaks about students with disabilities.
Under the Collaborative Learning Primer, include how to request accommodations and make sure all collaborations are accessible.
Add invention of the screen reader and other assistive technologies to the timeline.
Create resources on how to implement universal design of learning.
Link educators to resources for making open source tools more accessible.
Add spotlights on specific students who have been helped by inclusive design.
Make links online more descriptive.
Review Quality Matters and other organizations and conferences for accessibility
Create a guide for hosting an accessible conference that could be used by all, including accessibility of materials, presentations, technology, etc.
Distribute presentations on accessibility for organizations and conferences.
Raise awareness about accessibility for these organizations and conferences.
Make sure Quality Matters' Online Learning Consortium addresses accessibility.
Pay reviewers to make sure these organizations have accessible websites and conferences.
Create an action plan for higher education to become more accessible, including students working to create alternative text, audio infographics, etc.
Make the National Science Foundation's "Smart and Connected Communities" initiative more inclusive of people with disabilities
Create a response to the NSF colleague letter and the lack of accessibility it discusses.
Submit a call of funding to make communities smarter by including accessibility and diversity.
Include more data collection and research so different communities have more voice.
Communicate to NSF the importance of including diverse populations in funding opportunities.
Create a starter accessibility evaluation in the Knowledge Base.