Discussion Summaries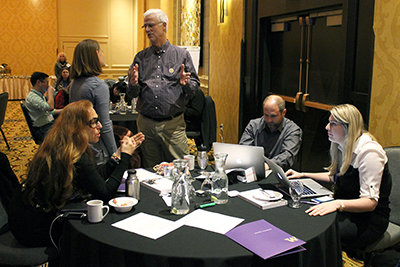 The following are examples of responses given to discussion questions.
What challenges does your project face related to accessibility to individuals with disabilities?
There are different challenges based on different disabilities. For example, currently we need our users to be able to drag and drop experimental variables, visually read graphs, and not use drop down menus.
We have a lot of highly visual graphical displays, which someone who was blind would not be able to access, because they also don't translate to screen reader very well.
Our project is web based and has small components that need to be clicked—this would be hard if you couldn't use a mouse or focus to click on something small.
We have no idea what it costs to include accessibility in our project.
We need to increase awareness in online programs (K-12, IHE, GovT) to ensure online instruction is accessible and stays current with changes in case law. This includes getting faculty and instructors on board.
The ability to format content (videos, slides, engagements, textbooks) in multiple formats and having a dependency on only one or two select vendors.
Innovation in online learning often seems to contend with accessibility—often something that seems new and helpful is not available to a subsection of the users.
In visual design creation by students, how do we address issues in vision and mobility? How do we make sure accommodations and tools don't negatively impede learning?
Our project includes deception detection skills, which requires multiple sensory channels and input. I am worried our project inherently leaves people out due to the nature of the material.
What is more effective when looking at universal design versus very specific audience targeting? When is it more effective to use one versus the other, and how do you combine them?
Massive Open Online Courses (MOOCs) have the technological limitation that they are just content online and often don't have the option for much feedback. A lot of MOOC providers are trying to develop tools to address this, liking adding captioning, downloadable transcripts, and ASL.
Our project will need the user to manipulate interactive simulations and molecular computation visualizations, like at http://molview.org.
We don't have enough staff for one-on-one support, which is often needed for students with disabilities.
It would be interesting to see how students with disabilities interact with our game; however, the challenge may be different and not focus on what they are actually supposed to be learning.
I never thought about accessibility when designing my current project.
What steps will you take to overcome accessibility barriers identified during the lunch discussion?
I will begin promoting universal design as a valuable change to better the experience for all users.
We want to incorporate accessibility and universal design as early into the design of a project as possible, so we don't waste time rethinking an aspect of the project repeatedly.
We will add captions to all videos.
By using resources for web accessibility, we can look at making our web-based games and projects more accessible.
I'm still stuck on the primarily visual nature of my project, but I plan on exploring the available products that we could use to solve this problem.
We can add information in the syllabus about accommodations and check for resources on the DO- IT website. 
If we start with an interface that is inclusive and accessible, that allows us to know the material will be accessible.
I will avoid PDF and instead only use HTML, using guidelines for HTML accessibility.
We will incorporate multiple modes of assessment and presentation.
By including staff and faculty in our discussions on accessibility, we will raise awareness and find more answers for design problems across campus. Create a mailing list to keep in contact and create an office of accessibility.
We will make sure our entire game is screen reader accessible and has audio description that can be turned on and off.
TxDLA is piloting an online accessibility certificate program—this feels of interest and would help add the fundamentals of accessibility to these projects.
How can your project design cyberlearning products and pedagogy accessible to people with disabilities?
Make sure all web applications are accessible.
Design new elements of projects from a universal design perspective from the start. For older content, make changes one by one so they are accessible to all.
Include students with disabilities in the testing of our projects and products.
Include joysticks, verbal commands, headsets, eye tracking, and digital mapping tools to increase access to all products.
Provide multiple formats for content, includes opportunities to practice and submit feedback.
Accommodate instructors as well as students.
Design accessible forums for students to discuss products and pedagogy with each other.
Collaborate with AccessCyberlearning for guidance and technical advice to implement accessible design into our products.
How can we continue to work together to promote universally designed cyberlearning?
Create a Facebook group to stay in contact and share ideas over social media.
Follow up with working groups to make sure we implement our action plan; include bi-monthly discussions.
Connect us with other research groups so we can share ideas and collaborate.
Have an online forum where we can brainstorm and share ideas. Ask each group to spend 2-5 hours a month to disseminate information about accessibility to other interested parties.