Learn More about the AccessADVANCE Project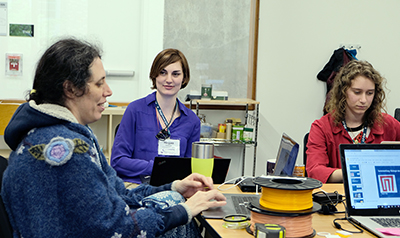 AccessADVANCE activities take an intersectional approach to increase the participation and advancement of women with disabilities in academic science, technology, engineering, and math (STEM) careers, recognizing that disability does not exist in isolation from other social identity categories (e.g., gender, race, ethnicity). Faculty with disabilities in STEM fields is an understudied and often invisible population.
Issues related to this population are important to address because even though there are relatively few women who currently hold faculty positions and women with disabilities finishing up Ph.D. programs. Any faculty member may at some point in their careers become disabled, permanently or temporarily. To create truly inclusive and equitable academic workplaces, it is imperative to systematically address issues impacting the career advancement and success of faculty with disabilities using an intersectional approach. Project objectives include the following:
For Institutions and Projects: To increase the engagement and capacity of ADVANCE, INCLUDES, and other programs that promote women in STEM and their host institutions to make institutional changes that make academic STEM careers more welcoming and accessible to faculty with disabilities from a wide range of underrepresented backgrounds.
For Individuals: To increase the interest and success of women with disabilities in pursuing academic STEM careers through outreach activities.
For the Entire Community: To expand an online Knowledge Base and other resources to share Q&As, case studies, and promising practices regarding institutional practices to increase the participation of women with disabilities in academic STEM careers.