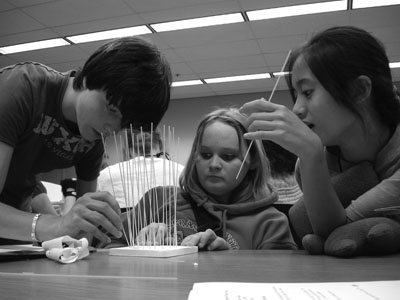 Dylan, Stefani, and Megan at Summer Study 2007 building a water tower made of spaghetti.
One might ask what the point of building a water tower out of spaghetti, tape, and foam board is. To find out why these structures were built, one need to look no further than The Wonderful World of Engineering class for the Phase I Scholars at DO-IT Summer Study held on the University of Washington campus. Students built teamwork skills by creating a tower that would support the most weight possible. The activity developed leadership skills as students learned how to cooperate and inspire confidence in their fellow classmates by encouraging them to voice their ideas.
The guest speaker for Engineering 101 was Frank Ashby, Director of Student and Community Relations at the U.W. College of Engineering. He explained the importance of engineering, the difference between various fields in engineering, and the ways in which engineering can be applied to today's world. DO-IT staffer Lisa Stewart said, "The purpose of the activity is to expose Scholars to the multiple fields of engineering and to help them start thinking about future careers, as well as to have some fun."
Scholars were enthusiastic about the activity and worked quickly to construct their water towers within the allotted time. The winning tower held an amazing forty-eight ounces of water.
Looking at the Scholars that attend DO-IT Summer Study, one would immediately notice that many are in wheelchairs or have another visible disability. Many also have invisible disabilities. That is because DO-IT is designed specifically to help teens with disabilities (visible and invisible) in their transition to college by building teamwork, leadership, social responsibility, self advocacy, and other skills necessary to live in the real world. DO-IT provides each Phase I Scholar with a computer, any needed assistive technology, and an Internet connection from home. New Scholars join an established e-mentoring community through which they can talk to people involved in the program such as staff, mentors, other Scholars, and Scholar graduates called Ambassadors. DO-IT also arranges internships to help Scholars discover career interests and gain valuable job experience. You can learn more about the DO-IT Scholars program at www.washington.edu/doit/Programs/scholar.html.
DO-IT is in its fifteenth year of operation and has engaged more than 300 Scholars in its Summer Study program. Many former Scholars have gone on to successful careers and continue to be involved with DO-IT through its extensive electronic mentoring community. In a nutshell, activities like The Wonderful World of Engineering teach DO-IT Scholars that a disability is not a handicap when it comes to learning and having fun.