Working Group Discussion Summaries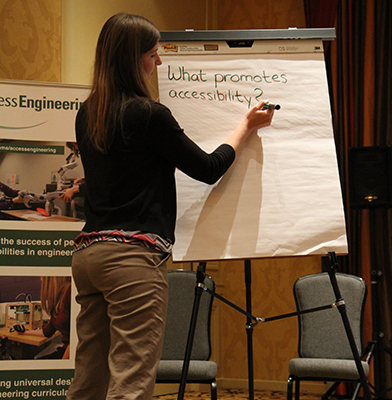 What can be done to make engineering labs, machine shops, and other activities accessible to students with disabilities?
By Katherine Steele and Maya Cakmak, University of Washington
This session included a presentation followed by a discussion.
What are the big things that we need to consider while making engineering labs, machine shops, and other activities as accessible as possible? We have been developing guidelines to help make hands-on learning more accessible in engineering labs and machine shops. This work draws from DO-IT's publication Making Science Labs Accessible to Students with Disabilities and site visits to UW's machine shop and engineering labs.
Using the Beam Robot, CBI participants took a virtual tour of the hardware lab in UW's Computer Science and Engineering Department. 
Elements of UD incorporated into the lab space included
All cords run through the ceiling, and therefore aren't a tripping hazard.
All workstations have the same tools and feel, so no one feels isolated and everyone can be comfortable at any space.
Buttons have tactile differences, so someone could use them by feel.
Elements that might present challenges for students with disabilities include
Equipment that is on high workbenches that some individuals may be unable to reach
Fluorescent lighting throughout the lab
Workbenches that are not height adjustable
Narrow aisles
Analog dials on equipment may not be very accessible
Uncertainty about how students with disabilities can contribute to group work
Strategies for increasing accessibility of engineering labs and machine shops include
Different textures to label areas on items
Plastic instead of glass
Preferential seating
Enlarged screens or microscopes
Adjustable-height work surface
Provide written and verbal instructions
Modified procedures to use larger weights, computer numerical control (CNC), LabView, virtual instruments, or 3-D printing when a project as assigned is inaccessible
Explicit strategies for ensuring that students with disabilities are playing an active role in group work, participating in hands-on work, leadership, or note taking
Some other resources that address accessibility issues in labs and machine shops include
What could be done at an institution to promote greater participation and success of students with disabilities in engineering? 
CBI participants made the following suggestions:
Increase accessibility awareness among faculty. Share best practices and case studies with them.
Create a better support system for staff, faculty, and administration.
Market engineering fields to students with disabilities, showcasing how engineering can benefit people with disabilities and the wide range of research that can be done in the field.
Provide engineering-focused outreach events to middle and high school students with disabilities, including summer camps, workshops, and early entry classes.
Partner with organizations on your campus or in your community that support individuals with disabilities.
Teach courses on assistive technology to raise awareness about accessibility and universal design.
Actively invite people with disabilities to meetings about diversity and other large impact conversations; include disability in diversity expectations.
Focus on the individual strengths of each person.
Start campus campaigns with staff, students, and faculty involved to raise awareness about accessibility.
Provide universally designed lab equipment to all students.
Include disability content in national conferences focused on celebrating and advocating for diversity.
Create better, more accessible infrastructure so that buildings are welcoming to all students.
Provide transcription services, and train faculty on how to use them.
Leverage state resources to provide more funding for accessibility.
Provide more mentors for students with disabilities from both within the university and outside of it.
Include the perspective of individuals with disabilities in design and implementation.
Engage with other universities and colleges to both keep up with new universal design ideas, as well as to spread awareness.
Ensure that students with disabilities get more hands-on experience with research.
Organize a student group to meet with the Dean of Student Affairs and other important stakeholders on campus.
Add information about universal design, accessibility, and disability into the curriculum. Integrate it into core courses and offer more in depth stand alone courses.
Educate professional and social networks about the strengths, and opportunities to support students with disabilities.
What are specific ways universal design and accessibility topics be integrated into the engineering curriculum? 
CBI participants made the following suggestions:
Have presentations by students with visible and invisible disabilities to put a face on diversity.
Include universal design in introductory classes and capstone projects so that all students consider it at least once during their education.
Make accessibility just another principle of engineering and include it as a part of the standards to get ABET certified.
Have more faculty and educators invested in accessibility to spread awareness in their classes and on campus.
Work ADA and universal design into engineering policy classes.
Raise awareness about universal design by including students with disabilities in engineering courses; have panels featuring students with disabilities so that engineering students can put a face to universal design and accessibility.
Discuss different learning styles and abilities in engineering classes.
Have a class that goes out into the community and does a design review, seeing how design affects real world people, including people with disabilities.
Integrate universal design into how you teach your class. Use a variety of teaching and testing techniques and include multiple means for accessing information. Have adjustable tables and lab infrastructure, as well as computer programs (e.g., LabVIEW) and equipment.
Be willing to modify labs or equipment for a variety of disabilities.
Use web resources to educate faculty on what other campuses are doing with accessibility and universal design. Seek knowledge from experts in the field of universal design (e.g., DO-IT) to make sure all information is up to date. 
Encourage every project to have universal design included as a key element. 
Build in funding for making labs and classes accessible.
Use case studies to show students what kinds of projects they can incorporate into their education and careers. Have students do a research project based around how engineering design or technology affects people with disabilities.
Have multiple representations in class of people with disabilities, such as images and graphics in class and around campus.
Have mandatory accessibility training for all educators.
Get user feedback from the engineering community, including students with disabilities.
Include employers and the industry in the conversation.
Include universal design in every engineering class, just as part of the process like any other engineering principle. All students should think about cost-effectiveness, practicality, user-design and accessibility.
How do the viewpoints of the individuals in the documentary Fixed affect how you would teach about topics related to disability and universal design in the engineering curriculum?
CBI participants made the following suggestions:
I should show the film in class or include a link to the film in the syllabus so students get a background in disability and universal design related to engineering.
We should include more philosophy and ethics discussions and lessons in engineering curriculum.
After showing the film, I would host a panel of students with disabilities to discuss their own experiences.
They should make an abridged version of the film as a stepping off point to discuss disability in engineering.
Other films and lessons to include in engineering curriculum are Part of Me, Not All of Me or the Ted Talk on Hugh Herr called "The new bionics that let us run, climb and dance."
We should promote the idea of technology as a means for greater universal design and promoting diversity. Technology and adaptation are about variety of the human experience, not just fixing a problem.
I would screen this in some of my introductory classes and my capstone class, to show students that engineering is about diversity. I would also promote the idea of airing it during our campus diversity awareness week.
If we promote the idea of design as a means of making anything possible, instead of "normalizing," then we will create far more creative inventions.
How do we encourage others in our departments, institutions, professional organizations, and elsewhere to include information about disability, accessibility, and universal design in engineering courses? 
CBI participants made the following suggestions:
Add information, resources, and inclusive photos to our catalogs and websites.
Require instructors to add universal design and accessibility information to their syllabi.
Include universal design and accessibility to degree diversity requirements. 
Work with disability services offices to recruit students with disabilities and train faculty about accommodations.
Promote more group work and projects instead of just lecture.
Petition the Accreditation Board for Engineering and Technology, Inc (ABET) to add universal design to their criterion.
Allow a variety of ways to measure student learning instead of just testing.
Have more meetings around universal design and accessibility and celebrate all wins.
Be proactive to making these changes instead of reactive.