Panel Presentation Summary: Panel of Engineering Students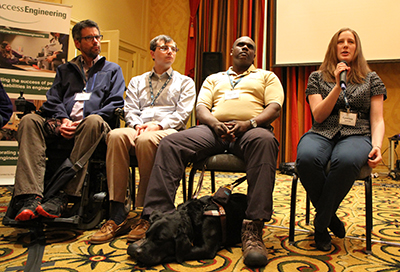 Panelists: Kevin Cree, Nils Hakansson, Vincent Martin, Cindy Bennett
Moderator: Brianna Blaser, University of Washington
Panelists answered questions about their experiences pursuing postsecondary education as students with disabilities. Below is a summary of their answers to each question.
What are some challenges you have faced in school or the workplace?
Educators and supervisors create a challenge when they do not give a high priority to accessible materials and software. I have had to come up with a number of creative solutions to gain access.
Inaccessibility can be an issue with group work. Google Docs was inaccessible for a long time. This put me in the place of telling my group that we couldn't use a tool that other group members liked.
I often had to pay out of pocket for software, computers, or equipment to make something accessible for me. 
My instructors have had difficulty understanding my written work because my learning disability affects my writing. Rather than communicating with me about solving the problem, some teachers have been disrespectful. Completing work electronically is one solution to this problem.
Testing for learning disabilities is expensive and time consuming; however, students are required to have these sorts of tests done to qualify for the accommodations they need to be successful.
As a faculty member, my lab floor was not very accessible for my wheelchair, so we had to build a new floor.
On campus, a lot of the infrastructure is older and built without accessibility in mind. It was a long process to get handles installed on doors that had doorknobs so that I could open them. I have been working on campus with the team that designs new buildings to try and make sure new construction is accessible from the start.
The main bathroom I used on campus was technically ADA compliant, but didn't have room for side transfer from my wheelchair. Issues like that show why people with disabilities need to be included in the conversation from the start, and bathrooms and other rooms need to be made with a wide variety of needs in mind.
What has kept you motivated to continue working through accessibility barriers?
My mother has always been a big motivation—when I first participated in the Paralympics and when I graduated from college, my mother always reminded me of my accomplishments and how proud I made my family.
I never want to be in poverty or dependent on others. Money is a strong motivation.
Seeing other students with disabilities graduating school and getting great careers really paved the way for me and showed me I could do it. I hope my success can help pave the way for someone else.
I want to show people that I can do it, regardless of my disability. I tell employers that I am dyslexic, and show them the tools I use so that they know my disability will not be a barrier.
I love what I do and really enjoy it—every day is an opportunity to grow and see that "aha moment" in others.
What has been your best strategy to get what you need to succeed?
Working with the office of accessibility on campus and getting someone to support both me and my instructors.
Talking personally with professors and working out solutions together.
Following others who have had similar disabilities—I am very fortunate to have a number of allies and role models. The more people communicate and work together the more accessible things will become.
Using the law to make sure my education, transportation, and work are accessible.
Working with others with disabilities—although this isn't always easy, since we have to find each other.
Creating a network of mentors who offer me support.
Finding a safe environment to be open about my disability and accessibility issues.
What recommendations do you have for employers?
A job interview is not the best chance to learn about how a person with a disability uses technology. If employers know more about assistive technology and accessibility, it wouldn't have to be brought up at every interview.
Employers should know that people with disabilities work just as hard or even harder than people without disabilities. People with disabilities constantly have to solve problems and have a strong skillset in taking steps to find solutions.
I will work just as hard or even harder than a person without a disability because I'm used to having to solve my own access challenges on a daily basis.
Keep the lines of communication open about disability. Employers should be open to talking about accommodations and finding answers.
Make sure you have accessible infrastructure, so people can access your buildings and environments.
Be explicit about what you are looking for and any accessibility issues. If you don't have an accessible environment, then certain people with disabilities may be miserable there.
What should people without disabilities do to improve accessibility?
Design with accessibility in mind and speak up about considering all levels of ability in design projects.
Think in terms of how you would access something in a variety of situations; put yourself into the shoes of others with a wide variety of disabilities.
Admit what you don't know and ask questions to find solutions, but be aware of not calling people out or asking inappropriate questions. 
Get to know a person beyond their disability.
Teach more about universal design in school.
What could be done to promote the participation and success of students with disabilities in engineering?
Make sure funding for assistive technology, accessibility, and accessibility training needs are in the annual budget.
Provide more training about working with students and employees with disabilities.
Give students options of different types of assessments.
Teach faculty how to make small changes so that their teaching will be more accessible without overhauling the entire curriculum.
Provide a comprehensive support system to ensure students with disabilities have the accommodations they need and access to mentoring.
Include disability in diversity discussions to promote positive change.
Promote relationships between faculty members, disability services, staff, and students to have open discussions about students' needs and expectations. 
Ensure your website is accessible.
Raise awareness across campus and include accessibility issues in on-campus peer groups.
Make labs more inviting and accessible.
Expose students with disabilities to successful role models in engineering fields who happen to have disabilities.