Building Capacity to Increase the Participation of People with Disabilities in Engineering (2015)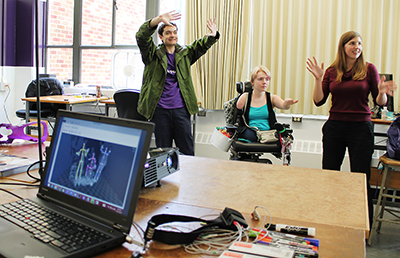 Proceedings of the April 2015 AccessEngineering Capacity Building Institute (CBI)
This publication shares the proceedings of a capacity building institute (CBI) entitled Building Capacity to Increase the Participation of People with Disabilities in Engineering. The content may be useful for people who
participated in the CBI;
seek to increase their understanding of issues surrounding the participation of students with disabilities in engineering studies and careers;
are interested in integrating information related to disability, accessibility, and universal design into their engineering courses;
would like to access resources to help make their courses, services, and activities more welcoming and accessible to students with disabilities; and
have promising practices to share with others.
About AccessEngineering
AccessEngineering works to increase the participation of people with disabilities in education and careers in engineering and improve engineering fields with their perspectives and expertise. Central to this work is a faculty leadership team of sixteen faculty members at colleges and university across the country. AccessEngineering is led by the College of Engineering and the DO-IT (Disabilities, Opportunities, Internetworking, and Technology) Center at the University of Washington (UW) and is funded by the National Science Foundation (Grant #EEC-1444961). 
AccessEngineering builds on theory and research to address immediate challenges facing engineering education today, including: increasing the size of the engineering workforce, diversifying engineering fields, and meeting institutional obligations under the Americans with Disabilities Act. The project focuses on two objectives: 
Better serving a diverse student body that includes students with disabilities in engineering courses and programs
Integrating relevant disability-related and universal design content into engineering courses
The second objective is an opportunity to improve engineering education as a whole, which may lead to the development of more accessible technology by the next generation of professional engineers, while including information in the engineering curriculum that may be of particular interest to students with disabilities.