Visiting Microsoft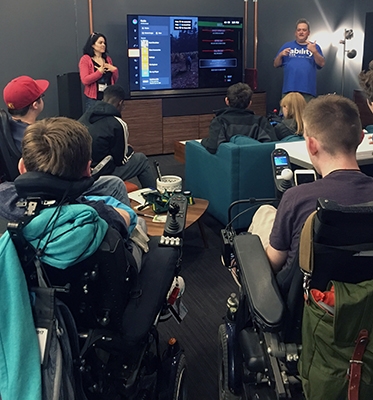 Scholars listen to a presentation at Microsoft during Summer Study 2017.
During the third full day of summer study, the Scholars took a trip to the Microsoft Headquarters in Redmond, WA. We began the day by brainstorming ideas about our ideal website design. Afterwards, four Microsoft employees with disabilities shared their experiences. Then things start to get really cool; we got to play with some adaptive technology for people with various disabilities.
The first piece of technology was named Seeing AI, an application for iOS devices. Seeing AI is a service that uses data from a photo and identifies the object(s) in that photo.
If a person is in the photo, the app attempts to identify their age, gender, and facial expression. However, the AI is relatively new and still learning—I used the application on myself and it identified me as a 30 year-old male so, they have some work to do.
The next piece of technology was a mobile arm attached to a sensor to allow someone to write with their sight. This is most useful for people who have ALS, are Quadriplegic, or have a disability that affects the use of their hands.
The last piece of technology introduced to us was the Hearing AI program. Hearing AI helps those who are deaf by describing sounds in the environment through graphic visualizations.
After looking at the adaptive technology, we moved to the experimental Xbox room. Here we saw a lot of upcoming modifications for controllers and accessibility features for people with sensory impairments.
One of the programs introduced was the Magnifier. This tool zooms in on anything that is currently on the screen, helping people with visual impairments. Another tool was called Narrator. Anything that is highlighted will be narrated so that blind people may hear what they are doing.
Overall the trip gave us a look at how Microsoft is making assistive technology for people to improve their quality of life. They are at the forefront of promoting a more inclusive world.