Phase II Projects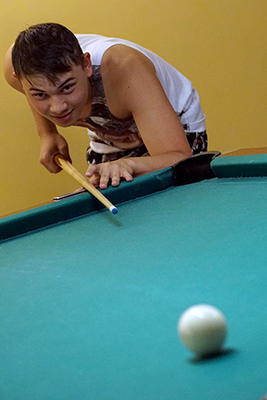 Takashi, a Phase 2 Scholar, Shows off his billiards skills during Summer Study 2017.
Every year the DO-IT Phase II Scholars present about themselves to the Phase I Scholars, other Phase II Scholars, Interns, and staff. During these presentations, you learn new things about the Phase II Scholars and the project they did throughout the school year. Phase II Scholars have a whole school year to work on their projects, and the presentations have to be less than five minutes long. These presentations also help you with your presentation skills.
This year, we learned many cool things about the Phase II Scholars. We learned from Adrian about Camp to Belong, a camp that reunites foster children with their siblings. We also learned about Takashi and his love for billiards. The projects and presentations can be about anything that interests each person.