The Alliance for Identity-Inclusive Computing Education (AIICE)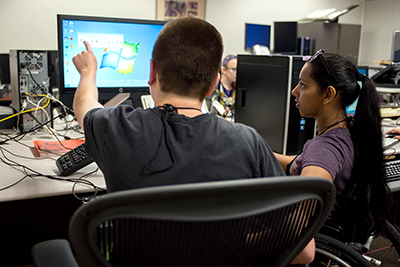 DO-IT is a partner in the Alliance for Identity-Inclusive Computing Education (AiiCE), which is led by Nicki Washington and Shaundra Daily at Duke University. AiiCE was awarded $10 million to develop tools and strategies in computing education that increase the entry, retention, and course or degree completion rates of high school and undergraduate students from historically underrepresented groups. DO-IT staff member and associate director of AccessComputing Brianna Blaser leads accessibility efforts within the Alliance, ensuring that accessibility is addressed within the Alliance's work and that activities are accessible and welcoming to people with disabilities.  
AiiCE focuses on creating more equitable computing spaces, which encourages technology creators from a diverse range of identities to occupy development and leadership positions in order to avoid creating potentially discriminatory technologies. However, this is only possible with an investment from the entire community of computer science (CS) educators.
AiiCE is founded upon evidence that student-focused (and often deficit-based) strategies do not adequately address institutional cultures, policies, and practices that continue to marginalize people from non-dominant identities. AiiCE aims to create systemic change by blending aspects of social science with CS to
Increase CS student and educator knowledge and use of identity and related topics,
Support CS educators and leaders in fostering academic cultures that are more inclusive of non-dominant identities, and
Increase K-16 policy-driven changes to CS education that infuse identity-inclusive strategies.
AiiCE enacts this change through focuses in training, curricula and pedagogy, research, and policy.
Resources
Visit the AiiCE Website
Learn more about the schools and organizations involved in the project and overall collaboration helping underrepresented students succeed in computing.
Explore Resources Supporting Accessibility within Computing Education
To support's AiiCE's mission, DO-IT has collated a collection of resources that promote inclusive and welcoming computing environments for students with disabilities.
Learn More About Our Other Related Projects
DO-IT engages in four projects that connect with the NSF Eddie Bernice Johnson INCLUDES Network: The AccessINCLUDES Conference Project, The NSF INCLUDES TAPDINTO-STEM Alliance, The Alliance for Identity-Inclusive Computing Education (AiiCE), and ERC-INCLUDES.