Case Study: Rob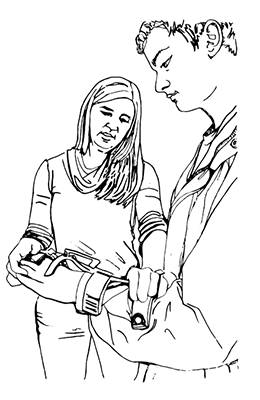 Hi, my name is Rob. I'm a college freshman studying civil engineering at Washington State University. I plan to work in infrastructure of some sort. I'm interested in NSF-funded Engineering Research Centers (ERCs) because I am going into a STEM field and think that lab work will improve my functionality in those fields. Although it was not a civil engineering activity, some skills can carry over into civil engineering such as computer design skills and general work skills.
Last summer I worked in Dr. Joshua R. Smith's Sensor Systems Lab at the University of Washington's ERC, which is called the Center for Neurotechnology. I was part of the Young Scholars Program (YSP) for high school students. The nature of my research was designing a 3D printed hand via a computer-aided design (CAD) program. The parts we designed were printed and assembled into a prosthetic hand. We used string to actuate the phalanges.
I learned a lot about the anatomy of a human hand and how to replicate that action. I also learned about how to professionally conduct research. The biggest thing I learned was how to establish a daily work routine. I learned how to use transit, work 8 hours, and cash a paycheck.
My disability is a learning disability related to reading speed and comprehension. I was diagnosed with Asperger's and had eye-tracking problems as a kid, which caused this disability. I didn't need very many accommodations during the YSP program, however I did use a text-reader for some preliminary reading material.
I would say to other students who have a disability that engaging in research It is a valuable experience and you can be a valuable member of the research team even if you have a disability. It's important to let people on your research team know if you need disability-related accommodations. Most faculty members, post-docs, and grad students will be understanding if you present reasonable accommodations to them, and if you can describe how you learn and how you get things done.
Some advice I would give to ERCs is that they should still have the same standards for people with disabilities, they just might need some accommodations. They should know that it is the responsibility of the person with the disability to inform the PI, grad student, or post-doc, about accommodations.
For engineering faculty, I would recommend that the instructor inform students with disabilities to alert them if there is a problem. The student should also tell their teammates if they are having trouble accessing material or having problems of any kind. The faculty member should provide accommodations as recommended by disability student services (for example, extra time on assignments). The professor should be open to accommodation requests but should not lower expectations of students with disabilities.