Case Study: Chris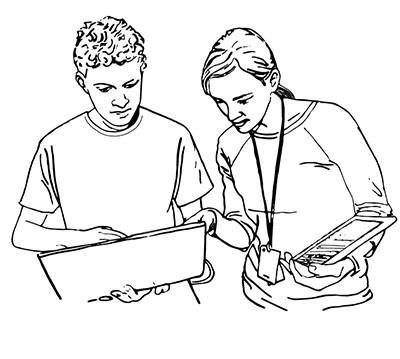 My name is Chris and I am a doctoral student at North Carolina State University studying mechanical engineering and with a minor in chemical engineering. Though my academic interests are pretty broad, I enjoy working with chemical reacting flows, advanced energy conversion, and vacuum science technology. While I still aspire to be a research engineer, I've found the commercialization of technology pretty interesting and as of recent I've become very passionate about helping develop assistive technology, for a lot of reasons.
I became interested in working at the North Carolina State University Nanofabrication Facility Engineering Research Center (N&F ERC) because it gave me the opportunity to focus on developing "commercializable" technology with very impact-focused research. The ERC also provided a diverse support structure for student researchers and the ability to work with assistive technologies. Specifically, my research is focused around depositing large areas of thermoelectric thin films using a novel cross beam pulse laser deposition system; this is a physical vapor deposition process that takes place in an ultra-high vacuum. After this, we also focus on creating highly-structured nano-materials for flexible electronics.
Working at the ERC has taught me how to work with researchers and students from a variety of backgrounds and with different thought processes. I also learned to be more fluid as an engineer and utilize different approaches and a more holistic view to a problem while still understanding the fundamental science. I have also learned more about how to maintain my own hard work ethic and keep up other important aspects of my life, including how to regulate stress and organize my time.
I have dyslexia, which affects my reading, writing, and processing speeds. I also have attention deficit hyperactivity disorder (ADHD), which means I often have poor short term working memory and easily get distracted. Sometimes I can come off as lazy, but I'm actually just having difficulty staying on track or understanding an expectation. I like to work in a quiet space with an outside window to help keep me focused. My ERC values diversity and people with disabilities and promotes having open mentoring relationships between students and faculty. This allows me to discuss my challenges and frustrations with those who can actually make changes. My ERC also has specific funding for individuals with disabilities, so I don't have to worry about sponsorship or losing my position.
However, I do sometimes have issues with articulating my ideas and translating my knowledge into practice, and I can become fearful about being viewed as unproductive. I'm learning more tools to overcome these challenges and have sought support from other students. For example, we compare experiences, share notes, and talk about best approaches for having difficult conversations. My relationships within a diverse community have helped normalize my experience. I hope all students with disabilities can learn to be comfortable and create a support system for themselves. Learning to advocate for myself was one of the best skills I could learn as an adult.
For ERCs, I think having a welcoming atmosphere for students of all backgrounds helps create a diverse lab. ERCs need not be afraid of approaching people with disabilities, and they should promote faculty being open to talking about accommodations and different methods of teaching. Faculty should create multiple ways for students to access their curriculum and be open to making changes.
For me, as a student with a disability, AccessERC and the work being done by the DO-IT center have been significant to my success and research. I encourage other students to seek out these types of experiences, and I also encourage other centers or other research institutions to consider taking a diverse approach to how they run their labs.