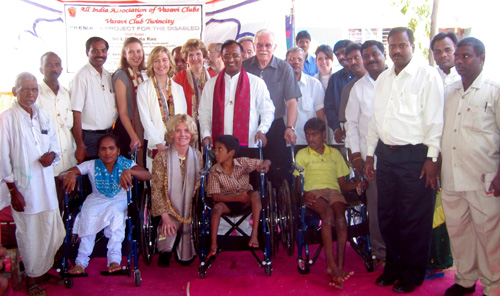 Sheryl Burgstahler, DO-IT director, celebrates with other U.S. and Indian delegates as wheelchairs are donated to people with disabilities.
International Ties. DO-IT connects with organizations throughout the world that share its goal to increase the success of people with disabilities in postsecondary education and careers, using technology as an empowering tool. Some of the individuals and organizations with whom DO-IT has worked are from Canada, Japan, Korea, the United Kingdom, Vietnam, and, most recently, India.
In November I traveled to Bangalore, India, to present at the first Indo-U.S. Conference on Information Technology Uses for Children and Adults with Disabilities. The event included people from Indian universities, information technology (IT) companies, IT-developing organizations, professional associations, and family centers, as well as individuals with disabilities. A delegation of twelve people from around the country represented the U.S. I was honored to be selected as one of them.
The event was funded by the Indo-U.S. Science and Technology Forum in New Delhi, India. Lead organizations were PACER Center, USA, a national parent center for families of children and young adults with disabilities, and the National Institute for the Mentally Handicapped in India.
I kicked off the conference with a keynote address on access to technology for people with disabilities that was followed with a similar address by Dr. Anapam Basu that focused on developments in India. Other international speakers covered a range of accessible IT topics that included:
research
application development
best uses in education and employment
access issues affecting people with different types of disabilities
consumer needs
government responsibilities
This conference provided a wonderful forum for sharing best practices in both countries and exploring areas for future collaboration. I look forward to future opportunities for DO-IT to increase access to empowering tools for people with disabilities worldwide. The next article shares details of one of our many collaborative activities with Japan.