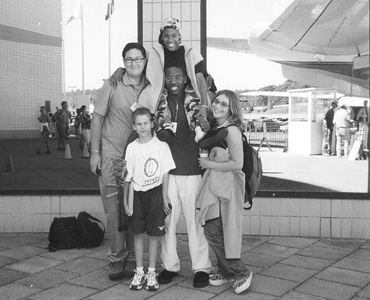 DO-IT Participants; Michael, Tynesha, Crystal, Raleigh and Travis.
DO-IT began in 1992 as a grant from the National Science Foundation to promote the success of young people with disabilities in science, technology, engineering and mathematics. Once funding for this nationwide experimental project ended, the State funded participation in DO-IT for Washington residents.
For the past three years, the State of Washington has funded participation in the DO-IT Scholars program. Teens with disabilities travel from all around the state to participate in Summer Study programs and other activities. They communicate year-round with mentors via electronic mail. They are all preparing for college and careers and to be leaders of the next generation. Here are some of the cities that they call home:
Aberdeen, Auburn, Bellingham, Bonney Lake, Bothell, Burlington, Cashmere, Chelan, Cheney, Coupeville, Duvall, Edmonds, Federal Way, Goldendale, Grandview, Granite Falls, Grays Harbor, Hoquiam, Kennewick, Kettle Falls, Kirkland, Lind, Lynnwood, McKenna, Moses Lake, Mount Vernon, Olympia, Pasco, Puyallup, Redmond, Rock Island, Rosalia, Sammamish, Seattle, Spokane, Sunnyside, Tacoma, Vancouver, Vashon Island, Wenatchee, Yakima, Yelm.
From high school to college
From two-year schools to four-year institutions
From school to work
We continue to promote their success in high tech fields where people with disabilities have been underrepresented. Educators, service providers, employers, parents, and mentors are important players on the DO-IT team.
After DO-IT Scholars join us for several summers at the University of Washington, they continue to participate as DO-IT Ambassadors by sharing their college and work experiences with new Scholars. This issue of DO-IT News focuses on the experiences of DO-IT Scholars, Ambassadors and Mentors.
The fact that past Scholars stay connected to the DO-IT community and contribute to program efforts, speaks to the important place DO-IT fits into their lives. Keaton, blind since birth, attended his first Summer Study program in 1997. Now he mentors younger Scholars in his role as a DO-IT Ambassador. Keaton says it all as he welcomes our 2001 group of DO-IT Scholars:
Hello and welcome to all the new DO-IT Scholars!

Be prepared for one of the greatest experiences in your lives. DO-IT Summer Study and the program in general are best described in the word of one of my fellow '97 DO-IT Scholars, "DO-IT ROCKS!!!"

Each of you has tremendous potential, and DO-IT can help you actualize it. My advice is to jump in and wholeheartedly take the DO-IT experience for all it is worth. Congratulations, it is good to have you onboard.

DO-IT changed my life. It helped me go from feeling like just another person, to feeling like just another AWESOME person. DO-IT brought me closer to my dreams, to where I could feel them and touch them. It showed me that each one of us can do whatever we set out to accomplish, if we are willing to work hard enough. We can DO-IT!