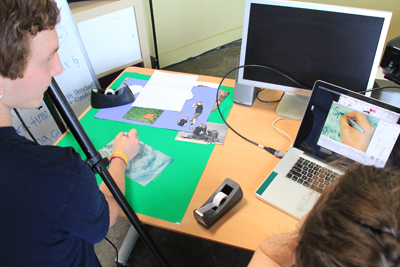 For far too long, the media has portrayed people with disabilities in egregiously false stereotypes. People with disabilities are neither to be pitied nor feared, but are a valuable addition to the lexicon of characters available to screenwriters today. People with disabilities deserve a better portrayal in the media.
Reel Grrls, the after school nonprofit media program for youth headquartered in Seattle, has decided to make that happen. "Not only do we show students how people with disabilities are portrayed in the media, but our partnership with DO-IT allows us to have students with a disability make media," Reel Grrls program director Monica Olsson said. To that end, Reel Grrls held a weeklong workshop on disabilities in the media. The participants learned about the portrayal of disabilities in the media and worked in groups to create videos centered around that topic, correct stereotypes, and educate the public.
Phase II Scholars Jennifer, Dominique, and Cody created a live action video about what to say and not to say to people in a wheelchair. "Most of the scenarios in this video come from our personal experience," Cody said. "People often ask us questions that are disrespectful. People ask us if they can ride in our chairs. We want to teach people how to talk to people in wheelchairs and how not to talk to them." Phase II Scholars Eric and Hannah worked together to make a short video on how people view people with disabilities participating in sports.
Societal trends are both reflected on and gleaned from the media, sometimes creating a vicious cycle of stereotypes and prejudice. The videos made in this workshop will not solve the problem in one fell swoop, but they may pave the way for more positive, accurate, and enlightened portrayals, one that will be beneficial not just for people with disabilities, but also for those without.