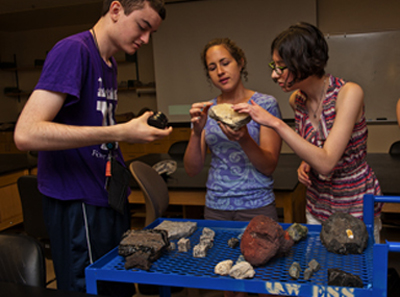 Phase II Scholars Peter and Lindsay look at geological rocks with an instructor during Summer Study 2013.
Forty-four DO-IT Scholars and Ambassadors participated in activities of the annual DO-IT Scholars Summer Study program in July. These high school and college students with disabilities from across Washington State, their advocates, and DO-IT staff celebrated DO-IT's 21st anniversary. This program has helped launch the careers of hundreds of students with a wide range of disabilities. At the end of the summer program, I asked Phase I Scholars to share what they learned. Below I have summarized some of their responses.
How universal design can be used to make things more accessible to people with disabilities.
How people with all types of disabilities can be successful.
About "ableism"—I now have a word for when people discriminate against individuals with disabilities.
That I can talk to anyone, no matter what their disability is.
How to think more about other people's needs.
That I have a lot more in common with people with disabilities different than mine than I originally thought. To be more up front about my disability.
About the variety of assistive technology that people with disabilities can use.
How I can take charge of my life and advocate for myself.
How most people have a sense of humor about their disabilities.
About disability support services in college and the process for requesting accommodations.
What I need to do to take the next step in my education.
How to get ready for college.
How the scholarship process works.
A better way of writing essays for scholarship and college applications.
The participants also had lots of fun at Summer Study and, as one Scholar pointed out, "felt understood. That is awesome."