Activities for Students with Disabilities, Employers, and Career Centers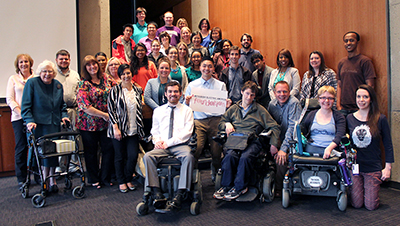 For Students with Disabilities
Onsite at the UW and other partner colleges, postsecondary students with disabilities increase knowledge and skills with respect to STEM career preparation through the following activities:
STEM Career Development Workshops. An ongoing series of workshops include visits to STEM research labs, resume-writing and cover letter workshops, a "how-to" networking session, hands-on engagement with assistive technology and accessible science equipment, exploration of career development resources, and a forum on accommodations in science labs and scientific field work.
Work-Based Learning. Students participate in work-based learning activities with mentors and industry representatives. They have opportunities to complete mock interviews and job shadows in the community. Project staff help students identify and apply for internship experiences. Students are referred to existing internship programs that are designed to recruit students with disabilities (e.g., the U.S. Department of Labor's Workforce Recruitment Program, ENTRYPOINT!) and programs for all students (e.g., on-campus career fairs).
Student Leadership Team. Six students with disabilities receive stipends to help design, promote, and implement project activities and conduct accessibility reviews of career centers. Student leaders serve for 6-12 month terms and act as liaisons to their respective campus.
Online Mentoring and Peer Support. Students join an online community supporting the pursuit of STEM careers, where members share experiences, offer advice, and exchange information about scholarships, internships, workshops, academic programs, and other opportunities. Mentors include those with disabilities as well as those who do not have disabilities.
Leadership Opportunities. Students have opportunities to speak on panels about STEM inclusion, lead STEM industry field trips for teens with disabilities, participate in existing STEM programs (e.g., the UW College of Engineering Discovery Days), and mentor younger students.
Student Competitions. Student competitions include an "elevator pitch" contest where students succinctly describe their experiences and career path, a STEM resume competition, and an essay competition called "What I did over the summer to further my pursuit of STEM."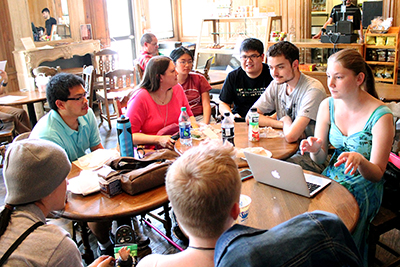 Examples of Student Workshops
Friday Meet-Up at the Burke Museum Café, 1/24/14
STEM Night at the Center for Neurotechnology, 2/7/14
Event at the UW Career Fair, 2/12/14
Mentoring with CEO of Ekso Bionics, 3/4/14
Exhibit at Seattle Central College Career Fair, 4/17/14
Student-run exhibit at UW College of Engineering Discovery Days, 4/25-26/14
BC's Autism Spectrum Video Game Tourney & Resource Fair, 4/26/14
Event at the Bellevue College Job and Networking Fair, 5/8/14
Ability Experience at Bellevue College, 5/15/14
STEM Night on the UW Campus (visit to a UW lab), 5/30/14
Elevator Pitch Contest, 6/24/14
Career Panel of STEM Professionals with Disabilities, 7/23/14
Mock Interviews with Industry, 7/24/14
Seattle Aquarium Accessibility Review, 8/28/14
Essay context "What I did over the summer to pursue STEM", 9/30/14
Workshop on Federal Employment at Bellevue College, 10/2/14
Back to School: STEM Night with UW Students, 10/3/14
UW Bothell Job and Internship Fair, 10/9/14
Disability Awareness Week at Seattle Central College, 10/13-17/14
Science and Engineering Career Fair at UW, 10/20/14
Workforce Recruitment Program at UW, 11/14/14
STEM Resume Contest, 12/15/14
Disability Disclosure Workshop with Microsoft and the FAA, 2/27/15
Second Annual Elevator Pitch Contest, 4/14/15
Engineering Discovery Days Exhibit, 4/24-25/15
Job and Networking Fair at Bellevue College, 4/29/15
Career Fair at Microsoft, 5/5/15
Occupational Therapy Leadership Panel at UW, 5/26/15
STEM Career Panel at Microsoft, 7/17/15
National USBLN Conference Student Preconference, 9/26-30/15
Training on Pursuing Federal Internships in preparation for WRP at BC, 10/6/15
A-Team Student Panel at Seattle Central College, 10/8/15
STEM Networking Night on the UW Campus, 10/23/15
WRP Campus Interviews at UW, 11/12-17/15
STEM Resume Contest, 12/21/15-1/29/16
A-Team Document Accessibility Training, 12/29/15
STEM Networking Night on the UW Campus, 2/5/16
Mitsubishi Electric America Foundation 25th Anniversary Conference, 2/24/16
Disability Disclosure for Students in the Workplace at UW, 3/31/16
UW Engineering Discovery Days, 4/22/16
Microsoft Ability Summit Career Fair, 4/6/16
Autism Acceptance event at Bellevue College, 4/9/16
STEM Networking Night on the UW Campus, 5/6/16
Internship and Job Fair at Bellevue College, 5/11/16
Disability Disclosure Workshop at Bellevue College, 5/17/16
Mock Interview Workshop at Bellevue College, 5/24/16
WA State Business Leadership Network Job Fair, 6/9/16
Elevator Pitch Workshop at Microsoft 7/15/16
Mock Interview Workshop at UW 7/21/16
Elevator Pitch Workshop at Western Washington University 7/28/16
For Employers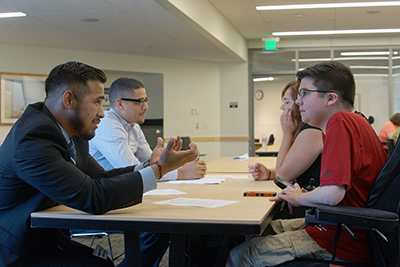 Online and in-person mentoring engages students regarding career development, STEM academic programs, internships, and labor market trends. Employers have opportunities to host postsecondary STEM students with disabilities at their work site to conduct informational interviews or host students for job shadows. They engage students around self-advocacy and demonstrate high expectations of postsecondary students with disabilities. Employer mentors have access to student resumes and consult with project staff about candidates for internships and job openings. Mentors have opportunities to help inform and develop project materials, such as the project website, promotional materials, and articles to be published in the DO-IT Knowledge Base.
For Postsecondary Career Centers
Project staff, along with the student leadership team, utilize the DO-IT publication Equal Access: Universal Design of Career Services to conduct accessibility reviews of postsecondary career centers at Seattle area colleges. The publication, which underwent formative evaluation with stakeholders, has received high praise from career development professionals. It offers a checklist for making career services welcoming, accessible, and usable by people with disabilities. The checklist describes universal design applications to physical environments, staffing and training, information resources, technology, and event planning.