Replication of AccessSTEM CAREERS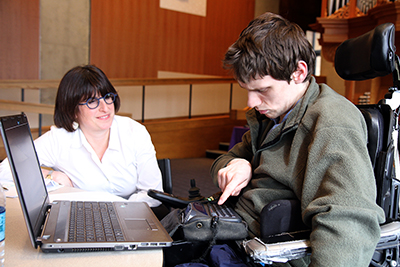 AccessSTEM CAREERS is funded by the Mitsubishi Electric America Foundation and directed by the Disabilities, Opportunities, Internetworking, and Technology (DO-IT) center. The project promotes science, technology, engineering, and mathematics (STEM) fields to students with disabilities in the Seattle area and works with career centers at local colleges to help make offerings welcoming and accessible to students with disabilities. Project partners are the University of Washington (UW), Bellevue College, and the Seattle College District.
Project Activities for Students with Disabilities: At partner colleges, AccessSTEM CAREERS students engage in the following activities:
STEM Career Development Workshops. In this monthly series of workshops, students have engaged in a STEM research lab, a resume-writing workshop, student competitions, hands-on activities with assistive technology, and an exploration of resources.
Work-Based Learning. Students engage with mentors in mock interviews, job shadows, internships, and other work-based learning activities.
Online Mentoring and Peer Support. Students engage in an online community supporting the pursuit of STEM careers.

Project Activities for Employers: Employer mentors address student questions and interests regarding career development, STEM academic programs, internships, and labor market trends. They have access to student resumes, learn about good candidates for internships and jobs, and host work-based learning experiences.
Project Activities for Postsecondary Career Centers: Career counselors engage in professional development and online discussions about making career services welcoming and accessible to students with disabilities. AccessSTEM CAREERS student leaders help career counselors conduct accessibility reviews of career center facilities, products, and services.