AccessComputing Offers Webinars for Computing Educators and Employers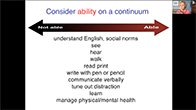 AccessComputing can lead online presentations and discussions for your department, institution, organization, or another group of colleagues. These presentations can include specific strategies that your department or organization could utilize to move towards becoming more welcoming and accessible to students with disabilities or how you could include accessibility topics in your instruction or research.
Below is a short list of some of the topics of presentations we can offer:  
Integrating Disability-Related Topics in a Computing Course

Accessibility is Becoming Mainstream

Introduction to Ability-Based Design

Panel of Students with Disabilities in Computing

Perspectives of People with Disabilities Regarding Accessibility

Teaching an Accessible Online Course

Accessible Online Meetings and Presentations

Designing Accessible Documents, Videos, and/or Websites

Accessibility and Third-Party Products and Services

Universal Design of Teaching and Learning

Why is Data on Disability so Hard to Collect and Understand?

US Laws about Accessibility

Tailor-Made Talk, Panel, or Discussion
Visit Host a Webinar for more information about webinars and how to request one for your organization.