Access to Informal STEM Learning Celebrates Milestone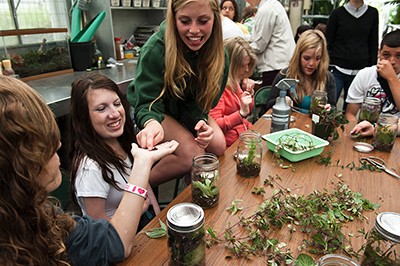 DO-IT's NSF-funded Access to Informal STEM Learning (AccessISL) project recently completed its third year. Please join us in celebrating this milestone. We're excited to share resources and information about our work to help ensure that informal STEM learning is accessible to everyone!
Recently, the Center for Advancement of Informal Science Education (CAISE) featured AccessISL's work on their blog in an article called Building Capacity in and Access to Informal STEM Learning Settings for Participants with Disabilities. We are honored to be featured among CAISE's offerings and we invite you to check it out.
AccessISL's website offers a variety of resources. As you explore the site, you can learn about accessible exhibits, universal design, promoting accessibility in curriculum and training, and more. Some examples include: 
Proceedings from the AccessISL Capacity Building Institute, explored challenges and solutions regarding equitable access to ISL. Participants identified specific ways stakeholders can work together to increase universal design, accessibility, and systemic change as it relates to informal STEM learning. 
AccessISL replication materials describe how the project provides internship opportunities for postsecondary students to enhance their learning about accessible ISL, promote accessibility within academic departments, and engage in activities to make ISL offerings more welcome and inclusive for everyone. The website also shares replication materials and best practices about Offering Accessible Online Informal Learning.
The resource Pedagogical and Content Design Practices that Support Accessibility and Inclusion in Museology Courses is designed for faculty in Museology and Museum Studies programs who seek to create accessible and inclusive learning environments and integrate accessibility topics within their curriculum.

The AccessISL Knowledge Base offers over 200 case studies, promising practices, and Q&A's regarding access to informal STEM learning. Examples of articles include:
You can get involved! All stakeholders are invited to participate in the AccessISL Community of Practice to join discussions and learn about opportunities to promote the increased participation of people with disabilities in informal science education offerings, training programs, and careers.