Grant Runner Copy Budget Period
This feature is available for Modular, Detailed, and Subaward budgets on a Grant Runner eGC1.
Once you have entered one new period on your budget, the next time you click the Add New Budget Period button, you will have to option to copy the prior existing period.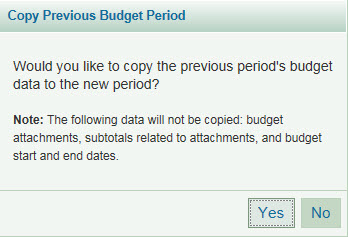 The reference in the dialog Note to "subtotals related to attachments" applies to just the Detailed and Subaward budgets.
The Start and End Dates for the period created by copying will default to the same dates as a new, non-copied period. The start date will be one day after the previous period's end date, and the end date will be one year after the start date.
For example,  if the period you are copying has the dates July 1, 2023 to June 30, 2024, then the newly created period will have the dates July 1, 2024 to June 30, 2025.