Working Together: Science Teachers and Students with Disabilities Meet the Speakers in the Videotape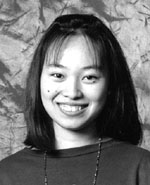 Maria
I have post-polio which makes it difficult for me to walk. I keep one set of books at home and the other in my classes. It is important for teachers to be flexible in their schedules.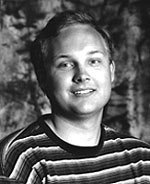 Matt
I have dyslexia. To aid students with learning disabilities, I think teachers should allow extra time for tests and schoolwork.

Anna
I am blind. I use a computer with voice output. In order to help students with visual impairments, professors should describe visual aids they present and provide tactile drawings.

Katie
I have a hearing impairment. What helps me in class is to have written instructions, both on handouts and on the blackboard.
Mike
My disabilities are attention deficit hyperactivity disorder and specific learning disability. My computer has spell and grammar checking which help when I write papers. I also ask professors for extra time for homework and tests.
Kris
I am visually impaired. I require large print handouts and tests. I also tell the teachers about my disability so they are prepared for any special requests from me.
Nhi
My vision is limited as the result of multiple sclerosis. I use large print and voice output programs on my computer. In class I use a magnifier for reading and binoculars to read the blackboard.
Shawnna
I have muscular dystrophy. I can't use my hands to write, so I use a computer for schoolwork. I also require large print handouts and use enlarged print on the computer screen.
Eric
I am without any vision. I rely on computers for schoolwork, and use voice output programs and Braille printers. I also use the Internet to research subjects.
Kristin
I am hard of hearing and partly blind. In class, I require large print handouts and an interpreter. I also use enlarged print on the computer screen.
Lloyd
I have a hearing impairment. It helps me to use interpreters and FM systems in my classes.
Rachel
I am partially paralyzed on the right side of my body as a result of a stroke. My memory was affected too. In class I need visual aids. It helps to be able to see things as well as listen to lectures.
Rodney
My disability is arthrogryposis mutiplex congenita. I can't use my hands to write, so I require copies of notes, a notetaker, or a computer. I use a computer and the Internet to complete assignments and research.
Katherine
I have a learning disability and reading is difficult. I use a voice output program on my computer. In class, extra time is essential for tests and assignments.
Nguyen
I suffered a gunshot wound which paralyzed the left side of my body. I use a computer and the Internet to research projects. It's important to include every student in activities, no matter what their abilities.
Mark
I have muscular dystrophy and use a wheelchair. I rely on a computer to complete homework assignments and use a Morse Code input device since I can't use my hands.
Randy
I am totally blind. It helps me in class to receive my homework assignments over electronic mail and to have labs that don't require vision; I can't check for color changes.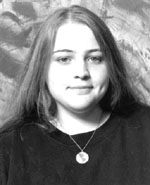 Jenny
I have peripheral neuropathy. I require adjustable tables and lab equipment. I also use a computer to complete assignments and to research subjects on the Internet.
Travis
My disabilities include shortness, orthopedic problems, and kidney problems. The only accommodations I require in class are adjustable equipment and shorter aprons.
Megan
My disability is chronic lyme disease. I use a computer to work from home, and require flexibility in scheduling classes and tests.
Nadira
I have nueropathy. I require adjustable equipment in labs. It is important for professors to encourage students with disabilities to participate in science.
Erofei
I am an amputee. I think professors should assign partners in labs, so if there is something one person cannot do, they can still watch while their partner does it.

About DO-IT
DO-IT (Disabilities, Opportunities, Internetworking, and Technology) serves to increase the successful participation of individuals with disabilities in challenging academic programs such as those in science, engineering, mathematics, and technology. Primary funding for DO-IT is provided by the National Science Foundation, the State of Washington, and the U.S. Department of Education. DO-IT is a collaboration of UW Information Technology and the Colleges of Engineering and Education at the University of Washington.
Grants and gifts fund DO-IT publications, videos, and programs to support the academic and career success of people with disabilities. Contribute today by sending a check to DO-IT, Box 354842, University of Washington, Seattle, WA 98195-4842.
Your gift is tax deductible as specified in IRS regulations. Pursuant to RCW 19.09, the University of Washington is registered as a charitable organization with the Secretary of State, state of Washington. For more information call the Office of the Secretary of State, 1-800-322-4483.
To order free publications or newsletters use the DO-IT Publications Order Form; to order videos and training materials use the Videos, Books and Comprehensive Training Materials Order Form.
For further information, to be placed on the DO-IT mailing list, request materials in an alternate format, or to make comments or suggestions about DO-IT publications or web pages contact:
DO-IT
University of Washington
Box 354842
Seattle, WA 98195-4842
doit@uw.edu
https://www.washington.edu/doit/
206-685-DOIT (3648) (voice/TTY)
888-972-DOIT (3648) (voice/TTY)
206-221-4171 (fax)
509-328-9331 (voice/TTY) Spokane
Founder and Director: Sheryl Burgstahler, Ph.D.