Student Discussions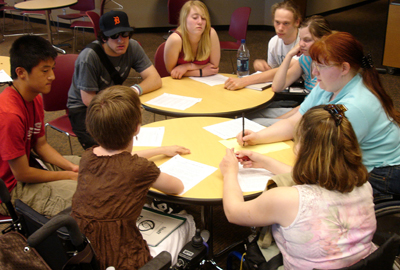 Participant suggestions that emerged in CBI discussions include those listed below.
Why do you think there is a smaller proportion of people with disabilities in STEM careers when compared to the rest of the population?
Because students are not adequately prepared for postsecondary STEM studies in high school.
In general, there are low expectations for students with disabilities; professors and teaching assistants lack an understanding of how students with disabilities can pursue STEM.
The "weed-out" classes adversely affect students with disabilities on campus because accommodations are inadequate.
STEM careers require a lot of education. More education necessitates more solutions regarding access and accommodations, thus increasing the risk of a fatal bump in the road.
The limited accessibility of learning labs and externship sites can exclude students with disabilities.
Lack of school funding for college, especially in cases where a student has to pay for adapted equipment, adequate care, or other disability-related products and support.
Health or medication issues may hold them back.
College freshmen who do not learn about STEM majors and admission requirements can make bad decisions that interfere with the pursuit of STEM majors.
Student participants provided the following advice:
Encourage high schools to foster STEM education for all students.
Work with students who miss school due to health issues to help them stay on track.
At colleges, improve training for teaching assistants so that they understand the potential of students with disabilities as well as their accommodation needs.
Carefully consider whether "weed out" classes are equally accessible to all.
Improve access of learning labs and prepare materials to educate externship sites.
Help students understand options for funding college.
Provide better information to freshmen regarding STEM majors and admission requirements.
What specific access issues for students with disabilities might there be in STEM courses and labs?
Many chemistry labs are not accessible to people who use wheelchairs.
Some teaching assistants are not motivated to be good educators or to provide good service to students. Many are not trained well about campus policies, including those related to reasonable accommodation.
For a student who relies on a sign language interpreter to translate the concepts, if the interpreter doesn't understand the subject at hand, important information may be lost in the process. This is particularly true of college-level STEM content.
The collaboration required of advanced STEM students presents a challenge to deaf students because they need to schedule interpreters or revert to other means such as writing or typing. This problem becomes much more amplified in group environments.
Some students have physical limitations when performing procedures in labs and other STEM activities.
Students who have difficulty understanding social cues or verbal directions, may not receive the support when they need it from the instructor or other students.
Student participants provided the following advice:
Improve the accessibility of STEM lab spaces.
Improve training for teaching assistants.
Educate faculty about potential accommodation needs of students.
Increase nurturing for STEM students in general.
Reduce STEM class sizes.
In K-12 schools what are some of the inhibitors that discourage STEM participation for students with disabilities?
Lack of teacher enthusiasm for the curriculum.
Poor teaching in general.
Teachers that teach out of the book and not how to actually apply the material and achieve understanding.
Inadequate support and mentoring to catch up when student might get behind due to disability- or health-related reasons.
Lack of accessibility of labs or classrooms.
Guidance counselors that only encourage students with disabilities into non-STEM majors.
A student can hit a ceiling in math during high school and be forced to postpone further math studies.
High schools that allow students with disabilities to graduate without inadequate science and math knowledge.
Student participants gave the following advice:
Foster teacher development and improve quality of teachers.
Work with students who miss school due to health issues to help them stay on track.
Improve the accessibility of STEM lab spaces and classrooms.
Provide training to guidance counselors to educate them about the potential of students with disabilities.
Carefully consider mathematics extensions such as Running Start or additional classes at the high school.
Ensure that all students have the proper math and science education before graduation.
Recognize teachers who foster learning for all students.