Shared Promising Practices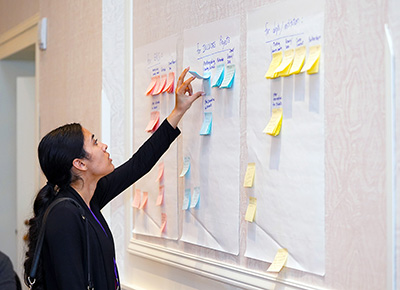 All participants shared promising broadening participation practices that could be implemented in ERCs, INCLUDES projects, and in institutions of higher education. Below, practices that could be implemented in these settings are grouped thematically.
Research and Impact
Develop a theoretical framework for diversity and inclusion programs.
Capitalize on existing models when developing your own programs.
Create a system map of your diversity and inclusion programs. A system map is a visual description of the service technical organization: the different actors involved, their mutual links and the flows of materials, energy, information and resources throughout the system.
Collect data on broadening participation programs and highlight the impact. In particular, consider longitudinal data collection that could demonstrate impact on STEM education and the workforce. 
Integrate STEM efficacy into evaluation activities. 
Collaborate with other projects and programs for collective impact. For example, the AccessERC Collaborative Recruitment Initiative promotes summer research opportunities at all ERCs to individuals with disabilities.
Include broadening participation in your research agenda.
Incorporate climate surveys into existing evaluation efforts.
Consider ways that cohort building can affect sense of belonging.
Develop a shared language with STEM scholars and professionals.
Develop data sharing agreements and strategies.
Increase the number of workshops and INCLUDES conferences regarding collective impact, including the role of backbones, hubs, and participants.
Partnerships
Improve REU recruitment through engagement with conferences like those of the American Indian Science and Engineering Society (AISES) and Society for Advancement of Chicanos/Hispanics & Native Americans in Science (SACNAS), and through state-level indigenous groups. Leverage connections while at meetings, bring students to these meetings, and engage consistently over time.
Connect with NSF-funded INCLUDES, Organizational Change for Gender Equity in STEM Academic Professions (ADVANCE), and Advancing Informal STEM Learning  (AISL) projects or other broadening participation projects on your campus. 
Develop a comprehensive list of potential stakeholders including individuals in community colleges, Historically Black Colleges and Universities (HBCUs) and other minority serving institutions, non-profits, and industry.
Seek out the expertise of existing communities, programs and individuals that work with underrepresented populations. Leverage partnerships with existing, successful programs rather than developing your own programs from the ground up.
Online meetings can allow you to engage with a wider set of stakeholders as compared to meeting solely in person.
Consider student and faculty exchange programs with minority serving institutions for cultural competency development.
Connect 2-year colleges to 4-year institutions for faculty development, and promote job opportunities at community colleges for graduate students.
Partner with STEM education programs to evaluate their impact.
Engage companies in your efforts and offer them many different types of opportunities for engagement with your students and activities.
Develop communities of practice among your leadership to advance inclusive practices.
Mentoring, advising, coaching, and role models 
Organize career panels for students from underrepresented groups, where students speak to faculty, staff, and other stakeholders about their experiences on campus.
Plan programming for families as a way to support first generation college students, especially within communities where family involvement is a strong cultural norm. Encourage students to invite a family member and bring them to an event. 
Conduct assessments and evaluations of mentoring activities.
Find role models for students in novel ways (e.g., leveraging social media). Encourage students to follow powerful role models on social media. An interesting social media relation gives students common ground and feelings of inclusion, in addition to inspiration in their field.
Differentiate between advisors and mentors, and be sure students understand the roles and potential impact of all individuals available for support.
Be mindful of the need for culturally representative mentoring for everyone (e.g., minority males in engineering).
Have undergraduates shadow graduate students to better understand what graduate student life is like.
Engage in community outreach where postsecondary students serve as role models to their communities.
Hold listening sessions with communities that you work with in order to learn from them.
Dissemination, Promotion, and Marketing 
Make websites, PDFs, and videos accessible to everyone. For example, caption videos, follow WCAG 2.0 guidelines for websites, and markup PDF files.
Create a unified and shared platform or folder to share information with the entire community. 
Carefully consider strategies for publicizing your successes. Consider your target audience for each action, and be sure to speak to their interests and needs.
Use an asset-based approach to community engagement.
Team building, training, and capacity building 
Create a diversity and inclusion advisory board. 
Incorporate mentoring and coaching strategies into faculty professional development.
Offer IT accessibility presentations to all faculty, staff & students and evaluate your website for accessibility.
Utilize emeriti faculty as mentors.
Ask leaders and faculty from underrepresented groups about their input around being a figurehead and managing minority initiatives. Consider whether the same people are repeatedly asked to get involved because of their identity.
Increase educators' awareness of practices that support minority male success in STEM. 
Connect with the National Alliance for Inclusive & Diverse STEM Faculty (ASPIRE) to help develop inclusive faculty practice that addresses disability.
Make connections to civil and social justice research projects.
Consider diverse socio-economic perspectives.
Find dynamic guest speakers or use TED-style presentations.
Explore corporate funding for staff support.
Other interventions for students 
Provide leadership opportunities for students. 
Conduct listening sessions to hear directly from engineering students.
Provide professional development workshops to students. Topics could include confidence, leadership, grant-writing, and public speaking.
Hold all students to high expectations.
Volunteer together as a team-building strategy.
Understand the cultural needs of your students and acknowledge that there are different ways of knowing.
Reflect on ways that men can serve as allies to women in STEM.
Encourage a growth mindset as a cultural norm within your project/institution.
Leverage students' altruistic motivations (social justice, improve humanity) to encourage STEM participation. Topics that bring a human impact aspect to engineering may attract diverse students. 
Connect STEM to everyday experiences and encourage students to learn about a variety of STEM fields.
Consider ways to make REUs more accessible to wide groups of students – including students with families, students with disabilities, and students from varied cultural backgrounds.
Review program admission policies and how they might affect diverse populations (e.g., discriminatory screening algorithms, majority-dominated selection committees).