Second Life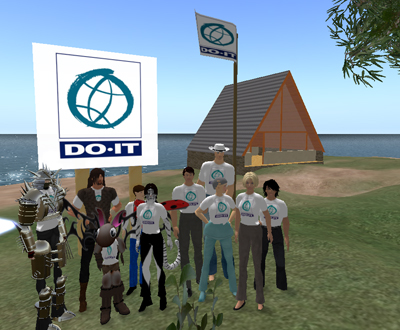 Participants of Second Life on DO-IT Island.
As Interns at DO-IT Summer Study, we got to participate in the workshop "DO-IT Second Life." This workshop focused around the computer program Second Life. In Second Life, users create an avatar that lives in a virtual world and interacts with other people. It is almost like a 3-D chat room. You can fully customize your avatar to look like anything, from a businessman to a celebrity. The choices are endless. You can also build objects like houses, teleport, fly, and chat with other avatars or people you know, in real time.
There are a lot of fun destinations that users can travel to in the game, from research places like the NOAA Research Center, to a medical school in London. While this game was fun, there were times when we needed to log out and log back into the game, in order to fix a problem. It was also very hard to build a good project without having to edit it many times. Despite this, one of the many advantages to the game was the benefit of having access to a number of different places. Second Life is an interesting concept, which can be enjoyed by many.
The Phase II Scholars in this workshop included Sam, Stefani, Christine, Carolyn, and Shelby. Two DO-IT Ambassadors, Scott and Noah gave presentations at this workshop. Being an Intern in the Summer Study program was a fun experience.