DO-IT Students Complete Engineering Labs At the University of Washington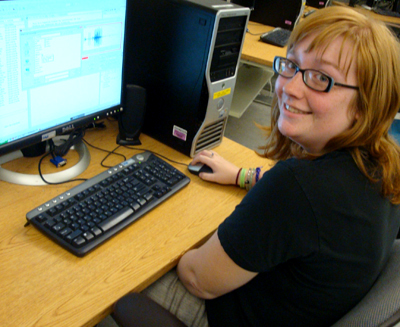 '09 Scholar Kristin participates in the UW's engineering lab.
On a Saturday in September, seven students with disabilities came to the University of Washington to work in labs hosted by the College of Engineering. The five high school and two college students met with graduate students and the associate dean to learn about different kinds of engineering. Then they took a quick quiz to test their knowledge about general engineering. After the information session, students split into two groups to complete one of two laboratory experiments.
The "Sounds You Can See" lab allowed the students to work on powerful data crunching computers in the electrical engineering department. The students learned how computers process sound and how to recognize patterns in sounds displayed as visual graphs. Students manipulated different sounds to create unique sound bites.
The "Understanding Robot Movement" lab allowed students to upload data to underwater robots and observe their movements. The students learned how aquatic creatures move through three dimensional space—with the help of a computer! Check the UW College of Engineering website to see their upcoming events (www.engr.washington.edu). Specifically, watch for the Spring 2010 College of Engineering Open House.