Panel: Perspectives of Students with Disabilities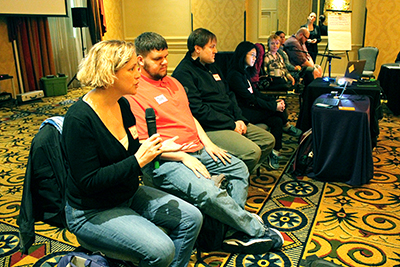 The student perspectives panel featured students with disabilities currently in undergraduate or graduate programs. The panel featured six students with disabilities, including one who has worked in CNT research labs.
Panel members included
Brad Barringer, Sociology and Mechnical Engineering Technology;
Sara London, Leadership and Higher Education and Policy Studies;
K Wheeler, Law, Societies, and Justice;
Lisa Hannon, Environmental and Forest Sciences;
Joe Stead, Electronics Engineering Technology;
Peter Johnston, Chemistry; and
Jessie Zhang, Human Centered Design.
What were your experiences in STEM-related classes, and how did that influence your decision to stay or leave a STEM-focused education?
I sometimes had a hard time understanding what professors were trying to communicate to me, so once in a while I had disability services chase down a professor to get a clear answer for me.
I used to love science, but I heard a lot of horror stories about lab-based classes in college. I worried about getting my accommodations or a good lab assistant in classes.
At my community college, I was lucky enough to have a diverse group of people in my STEM classes—we really worked together to take on lab work. Having a network of people really allowed me to feel more confident in my own abilities.
What accommodations or technology do you use to be successful?
The weather can really affect my bipolar disorder. My main accommodation is just extra time to turn in assignments and a flexible schedule when needed.
I often use screen readers and accessible PDFs so I don't have to carry heavy textbooks or stare at a screen for too long. I also use Sonoscent, which matches an audio-recorded lecture with a Powerpoint, and have extra time on tests.
I use Computer Aided Real-Time Transcription (CART), which is live captioning that records everything going on in the room. I also use an FM system, which puts a microphone on the speaker and hooks right into my cochlear implant so I can hear an individual easier.
My main accommodation is just understanding—understanding that sometimes I need more space, or to go outside, or to take a little time off. I like to build a network of people who support me.
I need extra time on tests and use a laptop to help me organize my notes and listen at the same time.
I used to just have audio-recorded classes, but I've advocated for video-recorded classes, since then I can see the images the professor draws on the board as well.
I do better without people around me in a private space, and I can't work if people are behind me.
What technology impacts you the most?
The Internet was a game-changer—it allowed me to interact with people and not be in the same room. I have done interviews over Skype, I can share ideas in a forum, and I feel much more comfortable collaborating when I don't have those physical triggers that could set me off.
I greatly value my physical calendar and notebook, which give me a visual reminder of my responsibilities and deadlines.
I use a huge monitor screen, which allows me to need less fine motor control.
My iPhone can do text-to-speech, record lectures, and create reminders for me.
LaTex allowed me to write my thesis in an easier manner; however, sometimes I think the best technology for me is just a window or another person to connect with.
My cochlear implant allows me to speak and communicate with others. On top of that, texting helps me stay in contact with others.
How do you disclose your disability and how do you request accommodations?
In college, I found it easiest to disclose to disability services and have them request my accommodations.
I normally wouldn't disclose until after I secured a job, but I've had a panic attack during a job interview before, which seemed unprofessional when I hadn't disclosed.
Since my disability is invisible, I don't usually disclose. As a computer programmer, people often just write off my quirks as stress reactions.
If possible, I like to show people who I am first before disclosing, so they can judge me on more than just my disability.
I am very open about disclosing so I can advocate for others with disabilities as well.
Have you ever had others not understand or accept your disability?
I had a professor who wouldn't believe I needed my accommodations, even after talking with disability services.
If someone tells me to try harder instead of accommodating, I often just try harder to convince them I really do need my accommodations.
I've had people tell me to get over my issues. Obviously it's not that easy.
How can ERCs be more accommodating?
Be more welcoming and reach out and ask the students with disabilities what can help them be most successful. Furthermore, being welcoming extends past just the labwork or classwork—being welcoming includes social events, lunchtime, and networking. Don't leave people with disabilities out of the "extras."
ERC leaders should promote an environment that is both accessible and welcoming. Their message should be explicit and repeated often.
It is helpful for undergraduate and graduate students with disabilities to see faculty, staff, and leaders with disabilities. Embrace opportunities to recruit people with disabilities into these mentoring roles.