Action Planning and Discussion Summaries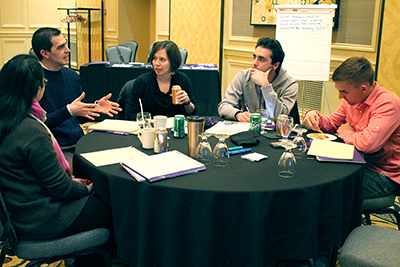 The following are examples of responses given during CBI discussions.
What strategies used to recruit/support other underrepresented groups at your ERC could be repurposed to use in recruiting and supporting people with disabilities?
Host a diversity training, similar to or included in lab safety training, that includes disability as a subject.
Edit training materials to include accessibility and disability topics.
Invite people with disabilities to be included in diversity panels or give presentations on disability topics.
Recruit veterans both with and without disabilities.
Target specific programs and organizations for people with disabilities for outreach activities.
Make sure all advertising materials are accessible and include a diverse range of people in images. Have options in digital and braille formats as well.
Have regular reviews done of science department and lab space for accessibility.
Include all students in team building exercises and lunch or after class activities.
Host research symposiums that feature disability; recruit at conferences for students with disabilities.
Make sure all people, including those with disabilities, have the opportunities to publish and showcase their work.
Host a mentorship program specifically for people with disabilities, where they could have a one-on-one relationship with a leader in the program and have extra support when needed.
Bring students with disabilities to conferences so they can learn more in the field and help recruit other students with disabilities by showcasing the ERC to be welcoming and accessible.
The Young Scholars program could have a spot specifically saved for a student with a disability.
Train at least one faculty member on disability and accessibility issues so they can help pave the way for more students with disabilities in the program.
Create a diversity fellowship and include people with disabilities in the position.
Film and Discussion: Fixed: The Science/Fiction of Human Enhancement
Two members of the CNT Ethics team and a CNT student with a vision impairment led a discussion on the ethics and ideas shared within the film.
As humans with the capacity for conceptual thought, we are really good at categorizing—however, while this can be used for inclusivity, it can also be used to exclude.
We need to understand why it is so hard for people to embrace differences. What is it about difference that causes people to be wary?
Fixed is great at showing all sides to the issue, and while there is no true conclusion, it is clear that engineers need more knowledge about designing technology and its impact on people with disabilities.
What kind of culture do I want to cultivate? If I am deaf and have a deaf child, is it right or wrong to not teach them English versus ASL?
How do we balance cutting edge research with basic access/rights? Where do class privileges also come into play in this question?
There is a misconception that to create an accessible lab, you need to bring in a lot of fancy equipment or spend a lot of money to make modifications. However, often the person with the disability can bring his or her own access tools. You just need to be open and willing to make modifications.
Finding a support network to make sure diversity and disability are included really helps make a big difference. Even more, getting support and starting to include people with disabilities helps the lab become a more welcoming place.
The best quote of the movie was "Variation is not impairment."
Seeking out diverse experiences can be the first step to opening up larger possibilities.
Ableism characterizes persons as defined by their disabilities and as inferior to the non-disabled. Language should be changed to be more welcoming and not ableist.
People with disabilities are often first adopters—they can often be marginalized, but they are actually paving the way for new technology and techniques.
It feeds back into how our society is not designed so that everyone can participate equally, yet if they don't participate nothing will be changed. It becomes a vicious circle.
How do the viewpoints of the student panelists and individuals in the documentary Fixed affect how you would communicate with, recruit, welcome, and/or work with people with disabilities in your ERC?
Include disability in all diversity endeavors.
Realize that there is not one solution to achieve inclusion—it is an ongoing dialogue that needs to be continued with all people sharing a space.
Share resources and information with partner institutions by organizing diversity panels and discussions during ERC meetings.
Use social media to reach out to and create a safe place for people with disabilities.
Create a diversity statement as well as a specific page about disability at the ERC for our website.
Join a mailing list to continue discussing disability topics and be able to ask questions when needed.
Continue to ask questions of people with disabilities and include them in all planning.
Do a webinar on disability, featuring people with disabilities in the ERC.
Work with AccessERC to run disability-focused events and recruit students with disabilities to work in the lab.
Reach out to different schools' disability resource services to recruit students and make sure we are accommodating appropriately.
Ask students with disabilities what they need versus assuming what they will need. Create a generally accessible environment, but when it comes to specifics, ask what tools are best for each person.
Work with AccessERC to make sure our website and all our materials are accessible, as well as find where we can be more welcoming to students with disabilities.
Ask all students whether they need changes to work better in the lab—use universal design principles. Promote the idea that all people have abilities and limitations.
Reconnect with other ERCs every month to see what other ERCs are doing to be more accessible.
How can we continue to work together to promote the participation of people with disabilities in ERCs? What activities could be conducted by Student Leadership Councils (SLCs)?
Create and setting up more workshops and events between ERC members and people with disabilities. Allow space in the lab for people of all diverse backgrounds can get to know each other.
Invite students with disabilities to conduct accessibility walkthroughs of ERC events, websites, labs, etc.
Set up a forum for sharing ideas and discussing issues.
Run disability and other diversity trainings.
Actively recruit people with disabilities for REUs.
Create videos about people with disabilities and other diverse groups working in the lab; showcase these videos on campus and on the website. Invite AccessERC to partner on videos and showcase them to others.
Send representatives to conferences and local universities to share research with disability organizations and offices.
Promote accessibility training to all faculty, both within the ERC and on campuses.
Engage more people with disabilities to share their perspectives
Allow people with disabilities to tour facilities and give feedback on accessibility.
Share best practices via email mailing lists.
Host research showcases about accessibility and technology.