Outdoors for All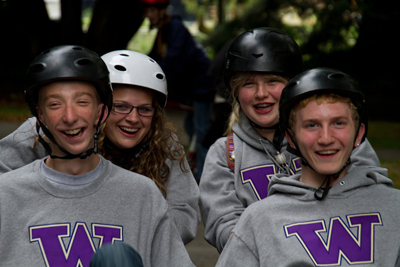 Summer Study participants are introduced to lots of different types of technology. One night we learned about many different types of accessible bikes. One bike was operated using hand steering, where you pedal with your hands instead of your feet. Another bike was a two-person tricycle with a backrest that was operated by your feet instead of your arms.
Jennifer used the hand-driven bike because she has cerebral palsy and cannot use her legs to pedal a standard bike. It took some getting used to the hand driven bike, but in time it became very easy to ride. This was her first time riding a bike and it was a wonderful experience.
Allison rode the tricycle. She liked that the bike had a backrest—the tricycle that she owns does not and she found the backrest much more comfortable. The tricycle was also adjustable in almost every way. The seats could shift forward or backward and the handles could move up or down. All around, it was just nice to be able to bike comfortably and safely next to her able-bodied personal care assistant, Taylor.
We were very pleased and impressed by the number of accessible bikes that were available.