Accessibility In Review
There are many different ways that programs and buildings can be accessible to people. At Summer Study, we learned how people with disabilities are affected when a place is not accessible to its visitors or a program is not accessible to its participants. We evaluated the accessibility of several buildings and programs.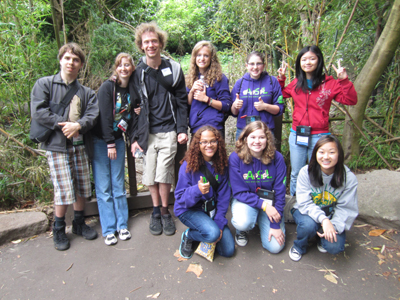 To start, we evaluated the University of Washington, Seattle campus. Although it has ramps and elevators, it also has large hills. Some ramps are placed in very inconvenient places that take a very long time to get up and down. By the time a person in a wheelchair finally gets up the ramp they may already be separated from the group that was able to walk up the stairs.
The second problem we found was at the planetarium. Visitors who were deaf or blind were at a great loss without interpreters or audio description. People who are deaf could either look at the interpreter to understand what was being said or they could look at the screen and miss the explanation. Those who are blind could only hear what was going on because there was no description for them on what the images looked like.
We also evaluated the Pacific Science Center, Microsoft, Woodland Zoo, and University Village. There were many accessibility barriers for multiple disability types. For people using wheelchairs, there were no ramps at the Science Center's sea urchin tank so these visitors were unable to touch them. Also, some stores at University Village were difficult for people in wheelchairs to navigate. At the zoo, walkways were hilly; we believe it would be simple to level the walkways to increase accessibility. For people with hearing impairments, captioning was not provided for videos at the Science Center. And during a Michael Jackson laser show at the Science Center, it was impossible for people who are deaf to know the songs being played. We did not find audio description for the blind provided for videos at any of the places we visited.
It would be straightforward to add some of the accommodations noted above, such as more ramps and closed captioning. These improvements would increase access to all people, including those with disabilities.