In Memory
Russell Taylor, '04 Scholar
Unfortunately, we must announce that Russell Taylor, one of DO‑IT's cherished Scholars, passed away in May.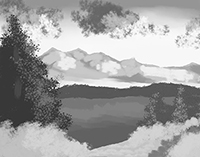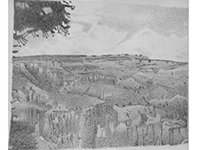 Russell graduated high school with an impressive 3.998 grade point average (GPA) and earned a bachelor's degree in history with a minor in Spanish from Pacific Lutheran University. Many Scholars may remember him from his participation in Summer Study in years 2004 and 2005. Russell tutored Spanish to college students and enjoyed creating art in both traditional and digital mediums. A majority of his illustrations depict breathtaking landscapes, many at locations that he had visited and seen himself. We here at DO-IT delighted in viewing his fantastic creations which can be found on his Blogspot. Two examples of his art are shown to the right.
The memory of Russell's intelligent and creative spirit will live on through his positive impact on others and beautiful artwork.
Ernie Butler, Advisory Board Member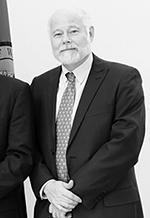 We are sad to share the loss of past Advisory Board member, Ernest "Ernie" Butler. Ernie passed away last July after a long battle with cancer.
Many Scholars may remember Ernie not from Summer Study, but from Camp Access, an outdoor recreation-based summer camp for children with physical disabilities that he founded in 2002. Ernie was very passionate about bringing sports to people with disabilities, recognizing not only the value of physical activity and exercise, but also teamwork, which led to the creation of Camp Access. He is known for the quote, "Never confuse disability with inability," which became the camp's motto.
Ernie will be remembered for the amazing impact he had on the lives of people with disabilities, especially disabled veterans, nationwide.
Toby Olsen, DO-IT Mentor and Friend
DO-IT was sad to learn about the sudden passing of Toby Olson, the Executive Secretary of the Washington State Governor's Committee on Disability Issues and Employment (GCDE), last December.
Toby worked tirelessly to encourage public dialogue about disability issues and challenge faulty assumptions about the incredible talent and value of people with disabilities. Toby's work also impacted many in the DO-IT community. For example, he oversaw the GCDE's Youth Leadership Forum, in which many DO-IT participants have participated as delegates, interns, presenters, and members of the planning committee over the last 18 years.
Toby will be truly missed, but his legacy will live on in those he inspired to make the world more welcoming and accessible to individuals with disabilities.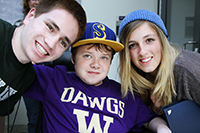 Carl Dunlap, '14 Scholar
On Tuesday, September 3, 2019, Carl James Dunlap passed away suddenly from complications of Duchenne muscular dystrophy. Carl had recently celebrated his 21st birthday in Las Vegas.
Carl was about to start his senior year at the University of Washington Foster School of Business. He attended Wellington Elementary, Leota Junior High (where he was student body president), and Woodinville High School (where he played in the drumline).  He was DO-IT (Disabilities, Opportunities, Internetworking, Technology) Scholar and intern at UW.  Carl loved hockey and had a wonderful experience as the debut Executive Track Internship Program intern for the Everett Silvertips. He was completing an outreach internship with the City of Kirkland at the time of his passing. He aspired to work in sports management and dreamed of being the youngest general manager in the National Hockey League.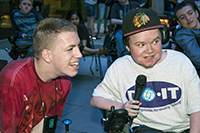 Carl had a wide circle of great friends that he loved to hang out with and his passions included sports, video games, going to raves, and his dog Amy. He had a wicked sense of humor and an overwhelmingly positive approach to life. He said recently that this was one of his happiest times. 
Carl lived every day to the fullest and never let his physical challenges stand in his way. He had visited 16 countries and 17 states.
A quote often attributed to Abraham Lincoln reads "In the end, it's not the years in your life that count, but the life in your years." Carl and his family lived by this axiom and inspired others to do the same.