How to DO-IT
Although putting together any activity at a summer camp can be daunting, following the six steps listed below can guide you through successfully incorporating Internet activities into your camp curriculum.
Put together an instructional and technical team.
Determine instructional goals and materials.
Find a facility with computers or make plans to rent, borrow, or buy them.
Arrange for Internet service.
Integrate the Internet into other camp activities.
Publicize the program.
View the presentation videotape and handout Camp: Beyond Summer, then read the details on these six steps as well as case studies highlighting the experiences of five camps provided in this section of the notebook.
---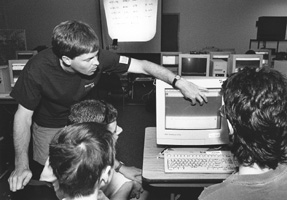 Example: One Camp's Recipe for an Internet Camp Program
By Bob Polland, Camp Courage, MN
Shop for an instructional and technical team.
Choose and prepare one program area for Internet access.

Find an area appropriate in size, comfort, heat and power.
Consider connectivity options - T1 or 56KB dedicated data line, ISDN, modems and phone lines.

Add 8 - 16 campers who blend well with other ingredients.
Add 8 - 16 computers with appropriate software.

Purchasing a PC or Mac costs $1000-2500 per system.
Renting computers in MN costs about $175-275 per week per computer.
Choose WWW browser software such as Netscape Navigator™ or Microsoft Internet Explorer™.
Consider borrowing computers from a friendly company, school, or university.
Don't forget to arrange for adaptive technology for campers with special needs.

Blend into a schedule that provides instruction at the proper level of intensity while also taking advantage of the camp environment and a camp staff interested in the program.
Cook for at least a week (be careful as the campers tend to rise rapidly).
Serve to those who have an appetite for what you've cooked. Enjoy!