DO-IT Receives Golden Apple Award
This article is reprinted with permission from University Week.
For the eighth year, the KCTS Golden Apple Awards recognized programs and people making dramatic differences in education. They honored five individuals and four programs or initiatives with KCTS Golden Apple Awards.
DO-IT (Disabilities, Opportunities, Internetworking and Technology) has received a Golden Apple Award in recognition of its efforts to maximize the academic and career success of people with disabilities in challenging fields, such as science, engineering, and technology. DO-IT is a collaboration between UW Technology, the College of Engineering, and the College of Education at the University of Washington.
Sheryl Burgstahler, Director, accepted the award from Patty Murray, U.S. Senator, on January 15, 2000 at a celebration in the Intiman Theater, Seattle. In part, Sheryl said:
On behalf of DO-IT's staff, mentors, volunteers, participants and advocates I am honored to accept this award. Our shared vision is a world where all people have opportunities to participate, to contribute, and to succeed, regardless of their abilities and disabilities.

The success of participants in college and careers and their contributions to their communities provide the best measures of success for DO-IT. The DO-IT participants are changing the world. And, they are making it a better place for all of us.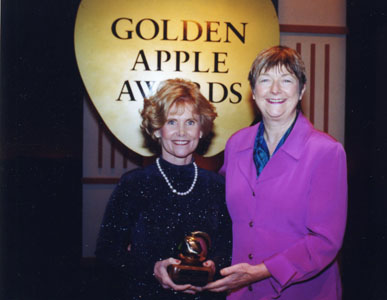 Golden Apple Award winners were presented with their awards at a celebration in the Intiman Theater, Seattle. The awards ceremony featuring the award winners will be regularly presented on KCTS TV.
KCTS is pleased to celebrate the achievements of this year's Golden Apple Awards winners. The 10 recipients were selected from more than 200 nominations by parents, students, educators and community leaders as examples of outstanding educational models throughout Washington state. Please join us in honoring their leadership and accomplishments. For more information about the recipients of the Golden Apple Awards, please visit the Golden Apple Awards section of the KCTS site at https://www.kcts9.org/show/golden-apple-awards/episodes