Disability Advocacy with Rooted in Rights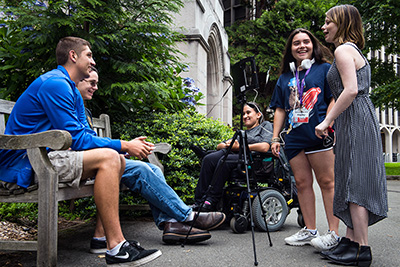 During Summer Study we were able to help with the Phase II workshop with Rooted in Rights (RiR), an organization that creates web content such as videos and blogs to challenge the stigma of disability. To prepare for the workshop, we learned the basics of video editing, which was much more fun than we expected. The Scholars in the RiR workshop had a lot of fun learning how to make exciting and educational YouTube videos.
For four days we helped the Scholars complete their amazing videos. With the direction of the talented RiR staff, we edited our videos using Adobe Rush and shot our videos with a tripod and iPad. The RiR staff were very helpful, accommodating, diligent, and committed to creating quality content that will change the perceptions of society about people with disabilities.
"I am really glad I had an Intern in my group helping me coordinate, film, and edit our Rooted in Rights video," one Scholar in our group said. We are so glad we had the privilege of working with our great Phase II Scholars group learning and exploring the field of disability advocacy.