Communities of Practice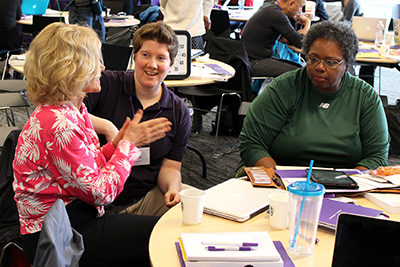 DO-IT engages stakeholders within Communities of Practice (CoPs). CoPs share perspectives and expertise and identify practices that promote the participation of people with disabilities in postsecondary education.
AccessibleWeb CoP
The AccessibleWeb UW community hosts monthly on-site meetings as well as an online community. Participants discuss
strategies for the design of accessible websites, documents, and videos; and
policies, guidelines, and resources regarding the accessibility of websites at the UW.
Accessible IT CoP
This CoP is populated with disability services and IT professionals interested in increasing the accessibility of IT in postsecondary education, particularly in Washington State. Participants
exchange information, ideas, and suggestions for future collaboration;
gain and share knowledge and help identify issues related to IT accessibility in higher education;
recruit others to participate in the CoP; and
provide content for DO-IT's searchable Knowledge Base.
Universal Design in Higher Education CoP
This CoP is comprised of individuals interested in exploring universal design (UD) and its applications in higher education. Participants on this CoP discuss
promising practices for infusing universal design on postsecondary campuses;
applying UD to all educational opportunities that include instruction, technology, student services and physical spaces; and
specific topics in the book Universal Design and Higher Education: From Principles to Practice and contribute materials to be shared through the Center on Universal Design in Education.
Accessible Distance Learning CoP
Distance learning program administrators and support staff use the Accessible Distance Learning CoP to increase their knowledge about disabilities and make changes in distance learning that lead to more inclusive practices. Members discuss
management;
staffing;
training; and
policy issues related to creating accessible distance learning courses and programs.
You and your colleagues can join a CoP by sending the following information to doit@uw.edu:
name
position/title
institution
postal address
email address
name of the CoP
For information about other CoPs hosted by DO-IT, consult Communities of Practice.