CBI Agenda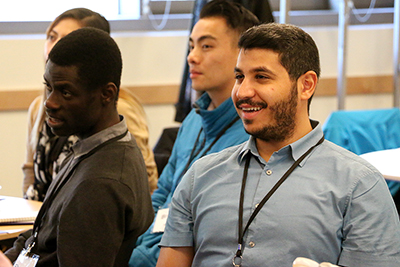 Wednesday, December 6th

6:30 – 8:00pm: Opening Reception & Networking
Thursday, December 7th

7:30 – 8:30am: Breakfast Provided by Marriott Residence Inn
8:30 – 8:40am: Arrive at CNT
8:45 – 9:15am: Welcome and Introductions (CNT)
      Chet Moritz, Co-Director of CNT
      Sheryl Burgstahler, Director of UW's Accessible Tech. Services & CNT Diversity
      Scott Bellman, CNT Diversity Manager, DO-IT Program Manager
9:15 – 10:00am: Accommodations and Universal Design (CNT)
    Sheryl Burgstahler
10 – 10:15am: Video & Publication: Universal Design of an ERC (CNT)
10:15 – 10:45am: Access Technology Used by People with Disabilities (CNT)
      Gaby de Jongh, UW Information Technology Accessibility Specialist
11 – 11:30am: Web Accessibility (CNT)
                  Terrill Thompson, DO-IT Technology Accessibility Specialist, UW
11:40am: Walk to Husky Union Building
12 – 1pm: Working Lunch & Report Out (HUB 334)
What strategies used to recruit/support other underrepresented groups at your ERC could be repurposed for use in recruiting and supporting people with disabilities?
1:00 – 1:20pm: CNT Promising Practices (HUB 334)
     Eric Chudler, CNT Executive Director & Education Director
     Scott Bellman
1:20 – 2:10pm: Student Perspectives: A Panel Presentation (HUB 334)
     Tamitha Tidwell, DO-IT Project Coordinator
2:10 – 2:20pm: Video: Not Your Inspiration – Stella Young (HUB 334)
2:20 – 3pm: Disability Identity and Disability Culture (HUB 334)
Kayla Brown, UW DO-IT Program Coordinator
3:15 – 4:45pm: Film: Fixed: The Science/Fiction of Human Enhancement (HUB 334)
Tim Brown, Paul Tubig, Sara Goering, and Michelle Pham CNT Ethics Team representatives
Discussion: How do viewpoints of student panelists and individuals in the documentary Fixed affect how you communicate with, recruit, welcome and work with people with disabilities in your ERC?
4:45 – 5pm: Video: STEM and People with Disabilities (HUB 334)
6 – 7:30 pm: Dinner                                                  
Where can we link to resources from our ERC website? What are other ways we can share information at our ERC, including partner institutions?   
Friday, December 8th                        
7:30 – 8:30am: Breakfast Provided by Marriott Residence Inn
8:50 – 9:00am: Welcome and Introduction to the Day (CNT)
9:00 – 9:05am: Video: Disability Sensitivity Training (CNT)
9:05 – 9:15am: AccessERC Products, Activities, and Initiatives (CNT)
     Scott Bellman
9:15 – 11am: Conduct an Accessibility Review of an Engineering Facility
Katherine Pratt, CNT & UW BioRobotics Lab
11 – 11:30am: Action Planning Worksheet & Discussion (CNT)
    Sheryl Burgstahler
11:30 – 11:40am: Final Evaluation (CNT)
11:40 – 12:30pm:  Lunch (CNT)    
Discussion: How can we continue to work together to promote the participation of people with disabilities in ERCs? What activities could be conducted by Student Leadership Councils? By diversity & education leaders? Others?
12:30pm: Wrap Up & Networking (CNT)