About the CBI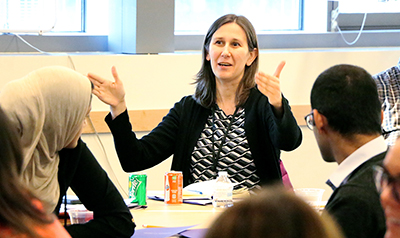 The AccessERC CBI, Increasing the Participation of People with Disabilities in Engineering Research Centers, provided a forum for sharing interventions and strategies that promote the full inclusion of people with disabilities in ERCs. Attendees came from ERCs across the United States. In total, over twenty-five participants were in attendance.
At the CBI participants shared expertise, practices, suggestions for future collaborations, and funding ideas. Broad issues discussed included
recruiting individuals with disabilities into significant roles;
understanding disability culture and the history of disability civil rights;
ensuring the accessibility of ERC websites, curriculum materials, online learning, video presentations, engineering labs, and other products;
promoting universal design and accessible IT;
providing reasonable accommodations to individuals with disabilities; and
exploring opportunities for collaboration.
In small working groups, participants responded to the following questions:
What strategies used to recruit other underrepresented groups at your ERC could be repurposed for use in recruiting people with disabilities?
How do the viewpoints of the student panelists and individuals in the documentary Fixed affect how you would communicate with, recruit, welcome, and/or work with people with disabilities in your ERC?
Where can we link to appropriate resources from our ERC website? What are other ways we can share information within our ERC, including partner institutions?   
How can we continue to work together to promote the participation of people with disabilities in ERCs? What activities could be conducted by Student Leadership Councils?
In this CBI
all participants contributed to its success;
experts in many related topic areas were in the audience; and
new concepts evolved from discussions.
The CBI was comprised of presentations, panel discussions, group discussions, videos, and hand-on activities. The agenda for the CBI and summaries of the presentations are provided on the following pages.