AccessSTEM Student-Centered Community Building Model
Science, technology, engineering, and mathematics (STEM) play a role in wide-ranging issues, from the environment to health care. STEM includes diverse fields such as agricultural sciences, forestry, astronomy, ecology, psychology, computer sciences, and social sciences. To ensure high quality research and practice, it is important to recruit talented individuals from diverse backgrounds into STEM fields. A range of abilities and disabilities contributes to this diversity.
Some disabilities affect vision, speech, hearing, attention, learning, or mobility. However, most disabilities are not obvious. Invisible disabilities include, but are not limited to, learning disabilities, attention deficits, autism spectrum disorders, and psychiatric conditions.
Grounded in research and practice, AccessSTEM Student-Centered Community Building Model was created as a useful tool for organizing evidence-based practices and promising interventions for high school students, college students, and STEM professionals with disabilities. As new projects unfold, staff of the Disabilities, Opportunities, Internetworking, and Technology (DO-IT) Center modify and enhance the model in light of new evidence.
Project interventions for students with disabilities incorporate the five conditions for nurturing healthy, successful children identified by America's Promise - The Alliance for Youth [1]. These five conditions are as follows:
Caring adults
Safe places and constructive use of time
A healthy start and healthy development
Effective education for developing marketable skills and lifelong learning
Opportunities to make a difference through helping others
Through project activities, participants in DO-IT projects sponsored by the National Science Foundation, including AccessSTEM, are encouraged to learn science (attraction), choose to keep learning mathematics and science (retention), graduate (persistence), and continue into STEM careers - steps encouraged by the NSF Committee on Equal Opportunities in Science and Engineering [2].
Activities implemented in DO-IT include those that
have evidence of effectiveness as reported in research/evaluation literature; and
are promising interventions reported by educators and practitioners through publications in the literature, conference presentations, phone conferences, meetings, and personal correspondence.
Resources linked to the following topic areas provide guidance to project staff regarding the selection and implementation of evidence-based practices and promising interventions for student participants.
Method Selection
People with disabilities face unique barriers to education and employment. These barriers include lack of encouragement; underdeveloped self-determination and self- advocacy skills; little access to successful role models; social isolation; lack of awareness of technology that can increase success; and low expectations from family, teachers, counselors, service providers, and faculty. The methods that were selected to implement project objectives address these barriers. They were identified through
a review of career development and student development literature;
input from people with disabilities, including the DO-IT advisory board and postsecondary students;
input from career development professionals;
consultation with employers; and
the adoption of successful practices from previous DO-IT projects.
As presented in figure 1, the Student-Centered Community Building Model highlights the importance of myriad stakeholders who contribute to the success of people with disabilities in STEM higher education and careers.
Figure 1: AccessSTEM Student-Centered Community Building Model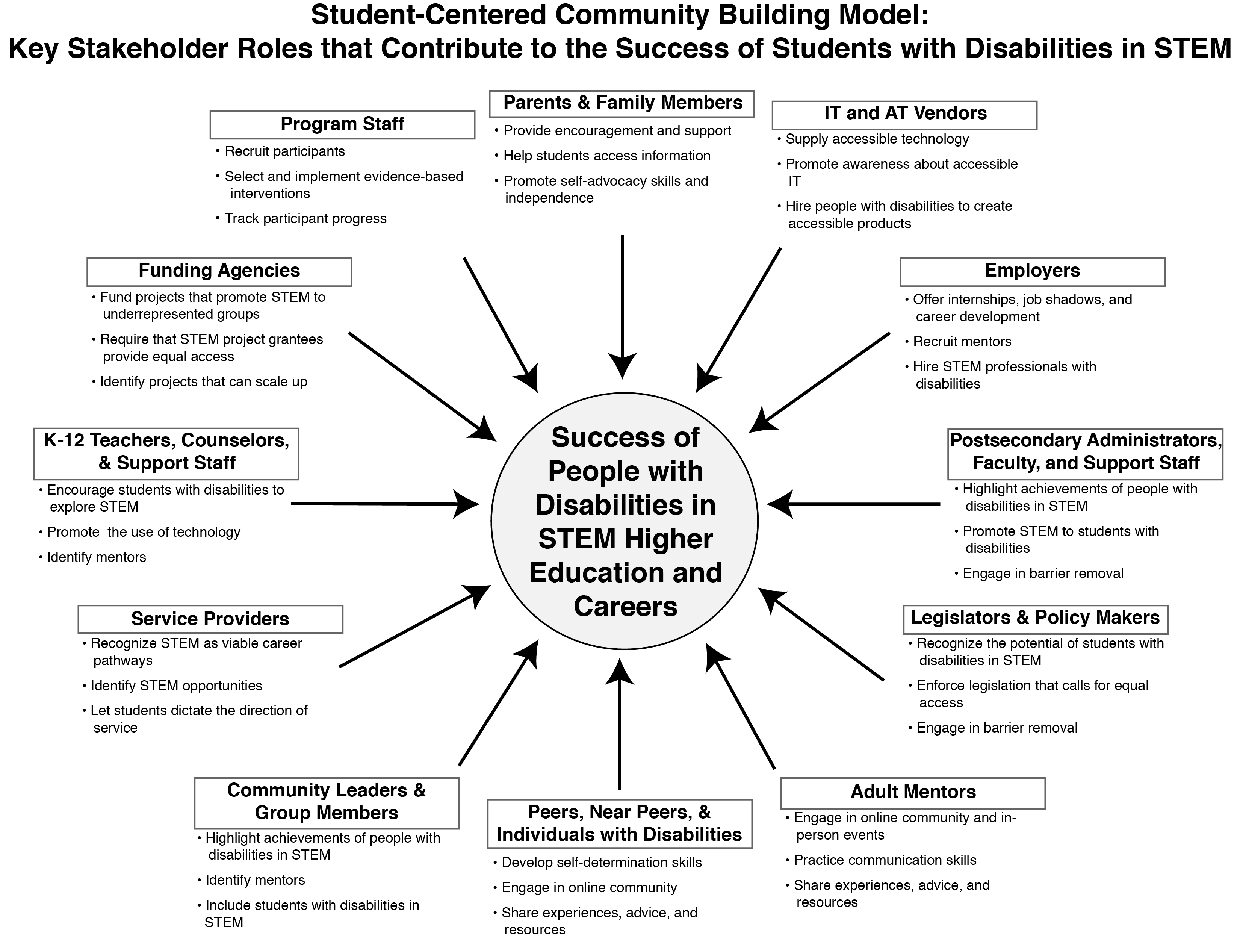 Critical Junctures 
Through AccessSTEM, hundreds of individuals with disabilities have participated in activities that increase STEM interest and success through critical junctures (e.g., high school graduation, enrollment in college) and transitions (e.g., military service to college, 2-year to 4-year school, undergraduate to graduate school, college to career).
The AccessSTEM critical junctures model, presented in Figure 2, identifies key steps that lead to the success of students with disabilities in STEM careers. Based on a literature review and twenty-five years of practice in the field, the model also highlights interventions (e.g., mentoring, research experiences, technology access) that support students in their pursuit of STEM.
Educators, parents, and other advocates can help students reach these critical junctures by providing mentor and family support, promoting the use of technology, and engaging students in activities designed to develop self-advocacy and STEM interests. Stakeholders can also help students access STEM internships and research experiences, role-play interactions with faculty and employers, and career development workshops.
Activities within AccessSTEM include those that affect student advancement through the following critical junctures toward a STEM career: 
from high school to college,
between two- and four-year colleges,
from undergraduate STEM degree programs to the workplace,
from undergraduate to graduate STEM degree programs, and
from graduate school to industry or academia.
Figure 2: Progress of Teens with Disabilities Toward STEM Careers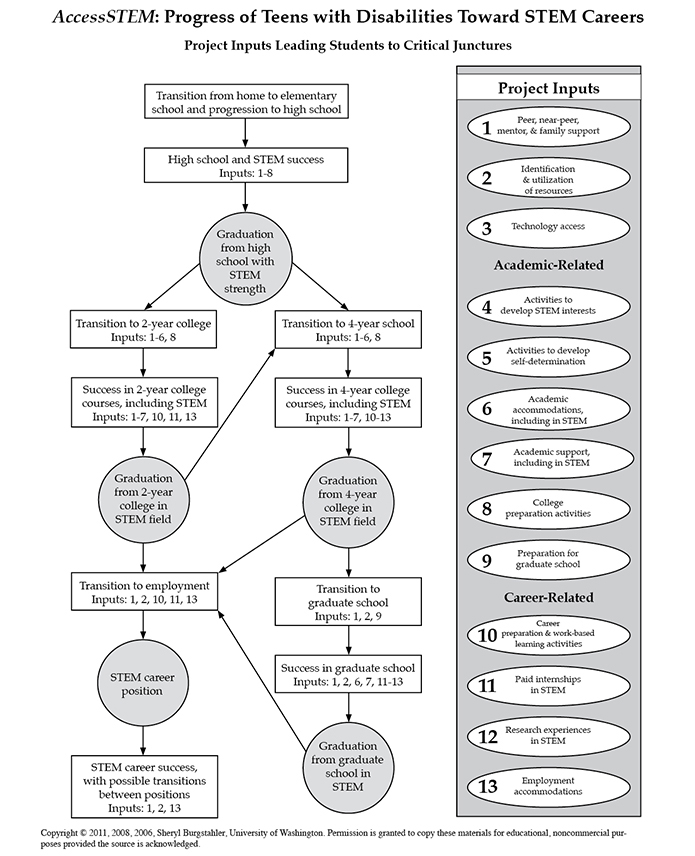 Student Tracking
The AccessSTEM/AccessComputing/DO-IT Longitudinal Transition Study (ALTS) measures success in taking critical steps toward STEM careers of participants with disabilities in activities sponsored by AccessSTEM and other projects sponsored or co-sponsored by the DO-IT Center at the University of Washington.  It tracks the college and career pathways of students with disabilities who have participated in activities sponsored by projects of the DO-IT Center at the University of Washington in Seattle. Students are added to the study as they enter DO-IT programs and agree to participate. To date, 472 students with a wide range of disabilities have agreed to participate in this ongoing study.
In ALTS, participants are asked to report key academic and work-based achievements. They also identify the DO-IT activities they participated in and rate the value of specific activities. Researchers record the "on track" status of respondents as they progress through critical junctures that lead to degrees and careers in STEM.
As the ALTS database grows, it increasingly reveals the long-term impact of DO-IT's program activities. It quantifies the relative importance of activities for achieving positive postsecondary outcomes. More information about ALTS and its current results are available online.
References
[1] America's Promise - The Alliance for Youth. (2006). Every child, every promise: A report on our nation's young people. Alexandra, VA: Author.
[2] Committee on Equal Opportunities in Science and Engineering (CEOSE). (2004). Broadening participation in America's science and engineering workforce. The 1994-2003 Decennial and 2004 Biennial Reports to Congress.