AccessEngineering Hosted Third Annual CBI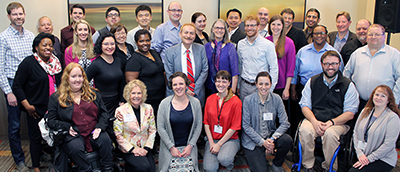 AccessEngineering hosted its third annual capacity building institute (CBI) on April 19-21. The event focused on integrating disability, accessibility, and universal design into engineering course materials, projects, and curriculum.
Special guest Dan Formosa, well known for his design work including the OXO Good Grips kitchen tools—which became a symbol of "design for everyone"—led a workshop on assumptions and designing for all, including people with disabilities. Participants had to rate how difficult it would be for a person with a specific disability to accomplish each task in order to make a large breakfast, and then design tools or an environment that would make those tasks easier. Partway through the workshop, Dan added the extra challenge of designing for multiple disabilities instead of just one.
The event successfully brought together faculty, students, disability resource service providers, and professionals with disabilities to create resources and action plans that could be implemented after the event. Discussions also revolved around what engineers should know about universal design and what would help an engineer integrate universal design into the engineering curriculum.
Resources from the CBI and proceedings will be hosted on the AccessEngineering website.