Access to Computing for People With Disabilities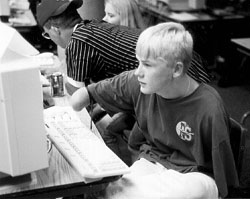 Computers are essential tools in academic studies, career preparation, and employment. It's difficult to imagine a state-of-the-art business without thinking of computer databases, electronic mail, and interactive Web sites.
Recent advances in adaptive computer technology, greater reliance on computers in many fields, and increased availability and networking of electronic information resources have resulted in life-changing opportunities for many people with disabilities. In combination, these technologies provide people with disabilities with better access to education, careers, and other life experiences. Career development professionals and employers can play important roles in assuring access to these empowering tools.
Consider a few stories of people with disabilities who are able to access information resources thanks to the availability of adaptive technology and accessible electronic resources. These people are all students and job-seekers pursuing interests in a variety of areas, including jobs in the fields of science, engineering, and mathematics.
Kathy is legally blind, but has enough sight to use enlarged screen images as she uses governmental resources on the World Wide Web. She is pursuing her master's degree in public administration and recently secured an internship with the state legislature.
Joshua has a hearing impairment. He often uses a sign language interpreter. On the Internet, however, Joshua communicates with his career counselor quickly and easily through electronic mail.
Maria is blind. She uses a screen reader and speech output system to access information on job requirements. Her system works well reading text, but cannot make sense of graphics. With the proliferation of multimedia on the World Wide Web, she is concerned that she is blocked out of critical job-related information. Fortunately, her career services office has designed their Web site with access in mind.
John cannot use his hands, but his spinal cord injury doesn't interfere with his use of the Internet; he uses a voice input program that allows him to talk his way through the Net. He looks forward to participating in an internship at a company that designs Web pages.
Jorja uses her library's online catalog and the Internet to research employment opportunities. Her learning disability makes it difficult for her to read printed words so she uses a speech output system to read the screen.
Heather surfs the Net with a small tube in her mouth. The computer obeys her every command as she inputs Morse code -- sip for a dot, puff for a dash. Her Cerebral Palsy is only a minor inconvenience as she searches for information on her special interest, cancer research.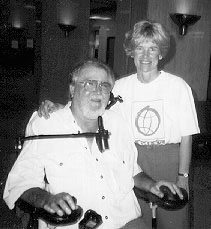 These stories provide examples of students with disabilities who can successfully access information on careers and pursue work-based learning opportunities thanks to computers, adaptive technology and electronic resources. Throughout this section you will learn how to ensure that there will be many more success stories like these for people with disabilities. The information covered will provide you with tools and insights that will help ensure that computing resources and Web sites at your school and worksite are accessible to all students. As an extra benefit, you will find that being sensitive to the needs of people with disabilities can often make access easier for everyone.